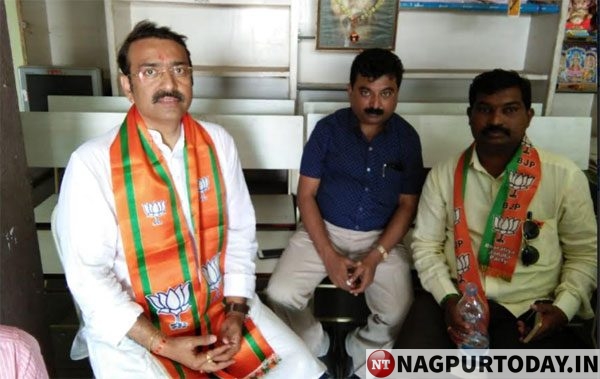 Nagpur: As the date for Lok Sabha polling coming nearer and nearer, campaigning by various political parties in top gear. BJP has been taking out rallies in different Prabhags daily. On Tuesday, senior BJP leader and Corporator Sandeep Joshi led a rally in Abhay Nagar, Jaywant Nagar, Ramteke Nagar, Toli areas in Prabhag 34 and campaigned for Union Minister Nitin Gadkari who is in the fray from Nagpur. The rally was participated by hundreds of party workers and supporters.
Talking to accompanying media persons, a confident Joshi said that Gadkari will the Nagpur seat by over 5 lakh votes this time in the Lok Sabha poll. "A slew of development works carried out by Gadkari, Chief Minister Devendra Fadnavis and party's Corporators would be the reason for BJP victory in Nagpur. People are giving overwhelming response to the rallies. Voters want to ensure Gadkari's win by huge margins.
For BJP, the biggest issue is development of all. Because of Gadkari's untiring efforts, a number of prestigious institutions such as IIIT, IIM, AIIMS, Symbosis, National Law University, have been and are being set up in Nagpur. Earlier, students of Nagpur had to go to Pune, Hyderabad and other cities for study in these institutions but now they can have the facilities in city itself," Joshi stated.
"Thousands of jobs have been created in MIHAN as many industries have been set up there. Big companies such as TCS, TAAL, Reliance, HCL, and others have set up their units in MIHAN. Patanjali Food Park is also coming soon. Gadkari is making Nagpur an education hub. Infrastructure development is going on in massive magnitude. Nagpur Metro has been started, a network of cement roads is being constructed, a centre of Sports Authority of India is being set up. Nagpur AIIMS has started functioning.
Ownership rights are being handed over to slum-dwellers. Under PM's Awas Yojana, 3000 houses out of 10,000 have already been constructed. The Opposition parties could not a suitable candidate and hence fielded an outsider. Gadkari knows every nook and corner of the city. On the other hand, the rival candidate knows nothing about the city and its geography," Joshi asserted.
Praising the party workers in Atal Behari Vajpayee's words, Joshi said the BJP workers are unique and hard working. They spend money from their own pockets and toil hard from morning to evening not bothering about the scorching heat. The party workers are leaving no stone unturned for ensuring victory of Gadkari in Nagpur, Joshi said.