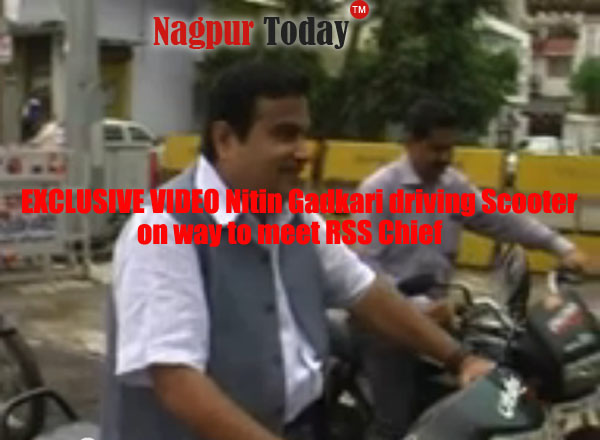 Nagpur News: The former National President of Bharatiya Janata Party Nitin Gadkari suddenly and surprisingly went to the RSS Headquarters in Mahal to meet the RSS Chief Mohan Bhagwat. The "attraction" of Gadkari's vist to RSS HQ was he riding in an Activa.
However, the Activa is not the news. His meeting with the RSS chief assumes significant political importance. Gadkari's meeting follows meetings by the top guns of the BJP. Earlier, Murli Manohar Joshi, Lal Krishna Advani, Rajnath Singh, and yesterday only, the gigantic party leader and Gujarat Chief Minister Narendra Modi had arrived in Nagpur to meet the RSS chief Mohan Bhagwat.
Gadkari was holding the meeting with Mohan Bhagwat till filing of this report.
Exclusive Video : Former BJP president Nitin Gadkari rides his scooter to reach RSS headquarters for meeting with its chief Mohan Bhagwat