NMC urged to convert all official vehicles to CNG
Nagpur: The Union Minister for Road Transport and Highways Nitin Gadkari on Saturday launched city's first Compressed Natural Gas (CNG) bus service at a function held at NMC Headquarters in Civil Lines. The bus was converted from diesel to CNG. The Green-coloured bus arrived in city recently.
Those present on the occasion include Guardian Minister Chandrashekhar Bawankule, Mayor Nanda Jichkar, Transport Committee Chairman Bunty Kukde, Standing Committee Chairman Virendra Kukreja, BJP City President Sudhakar Kohale, MLA Sudhakar Deshmukh, Municipal Commissioner Abhijit Bangar, Transport Manager Shivajirao Jagtap, a host of Corporators and officials. On the proposal of Bunty Kukde, Gadkari emphasised that all the vehicles of NMC officials and office-bearers should also be converted to CNG.
Later talking to media persons, Gadkari said that the CNG bus will run from tomorrow (March 3) on a pre-determined route. "Nagpur Municipal Corporation should run high speed diesel (HSD) buses on CNG. 150 buses will be converted to CNG for which necessary permission from RTO has been procured." Following the advice of Gadkari, the Mayor Jichkar first gave her consent to convert her official car to CNG.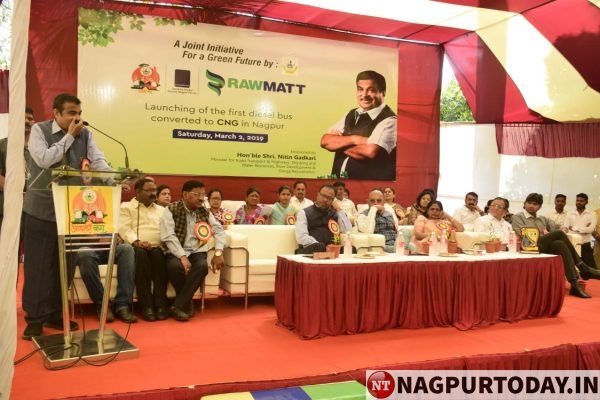 The Union Minister further said that with the run of CNG buses, city will get rid of pollution and will not pose any health problems to citizens. "NMC will save Rs 75 crore annually by converting all diesel buses and official vehicles to CNG," Gadkari stressed.
The Transport Committee Chairman Bunty Kukde said that the LNG will be brought to city from a Gujarat port and will be converted to CNG at the filling station in Khapri. The mother station of CNG will be set up at the depot of Travel Time at Khapri. One bus will have 8 cylinders having capacity of 96 kg CNG. With this capacity, the CNG bus will run a distance of around 400 km.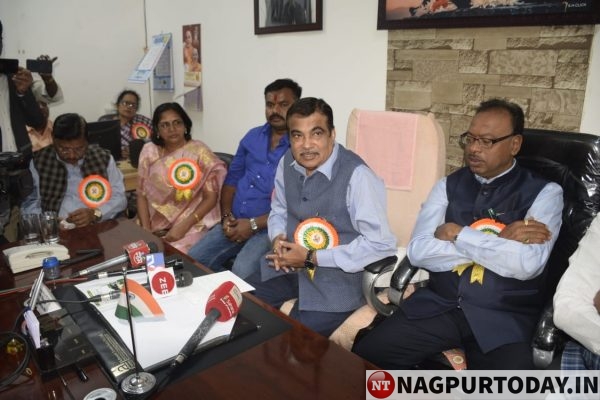 Kukde further said that Rawmatt Industries Private Limited has successfully fitted CNG kits in the bus in Mumbai. The company will invest in installing CNG kit- Type III CNG Cylinder in the buses without charging a penny to the Transport Department. The cost of a kit is around Rs 3.50 lakh. Also, the company will start a CNG filling station at Khapri over civic body's land. Current rate of 1 kg CNG is around Rs 49 but the company will charge Rs 50 from the civic body to recover the CNG kit cost. It will also sell CNG to other buses and profit earned will be shared on 50:50 ratio.
"These buses will reduce financial burden on NMC as CNG will be available at Rs 50 per kg while current price of diesel is Rs 77 per litre. At present, the buses are running up to 3 km on 1 litre diesel while they will run up to 4 kms on 1 kg CNG. Also, switching over to CNG as fuel for city buses will reduce pollution," Kukde said.