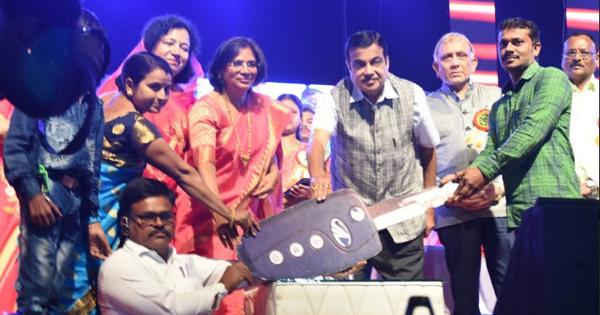 Nagpur: Union minister and city MP Nitin Gadkari caused a flutter when he praised the late prime minister Indira Gandhi. Addressing the gathering of women at the inaugural of exhibition put up by women self-help groups, Gadkari said he did not believe in caste and reservation politics. Gadkari said, "This nation had leaders like Indira Gandhi. She got better of many stalwart male leaders of her time. Did she get any reservation?" Bharatiya Janata Party (BJP) has frequently criticed Indira Gandhi especially for imposition of Emergency. Gadkari later also mentioned women leaders from BJP like Sushma Swaraj, Vasundhara Raje and Sumitra Mahajan. "Women should get reservation and I will not oppose it. A person never excels on the basis of caste, language, religion or sex.
One rises on the basis of knowledge. Do we ask religion of Sai Baba, Gajanan Maharaj or Tukadoji Maharaj? Do we ask about caste of Chhatrapati Shivaji Maharaj, Dr Babasaheb Ambedkar, Mahatma Jyotiba Phule? I am against politics of caste and religion," he said. Then, he went on to cite example of Indira. "Need is to increase our skill and knowledge. If we have a good knowledge, party will come to your home and give ticket. Therefore, the NMC (Nagpur Municipal Corporation) should train women and increase their skill and empower them.
At the same time, some sections and women need reservations," he said. The exhibition was organized at Reshimbagh ground, adjacent to RSS' Hedgewar Smarak, on Sunday evening by NMC. Gadkari praised the civic body for distributing e-rickshaws worth Rs 1 crore to persons with disabilities. "It is historic initiative. E-rickshaw is my brainchild. I faced a lot of problems when I brought a bill about e-rickshaws in Parliament. Some people even went to Supreme Court. Now e-rickshaws are all over the nation," he said. Last year, the civic body distributed 70 e-rickshaws. Now, the NMC will be distributing 70 more.
Revealing his own innovative projects, Gadkari said he was producing silica from rice husk ash. "It is very difficult to dispose of ash. After experimenting for four years, we came up way to produce silica. We are producing 100 tonnes of it. We got order of 70 tonnes silica from Dubai at Rs 560 per kg," he said. Gadkari also suggested that NMC should run city buses on wet garbage being collected from the city.
He advised Central Nagpur MLA Vikas Kumbhare to do branding of saoji food. Mayor Nanda Jichkar, MLAs Sudhakar Kohle, Kumbhare, Krishna Khopde, ruling party leader Sandip Joshi, standing committee chairman Virendra Kukreja, chairperson of women and child welfare committee Pragati Patil, deputy municipal commissioner Ranjana Lade and others were present. At the exhibition, the NMC has facilitated 300 stalls. The exhibition will continue till January 12.