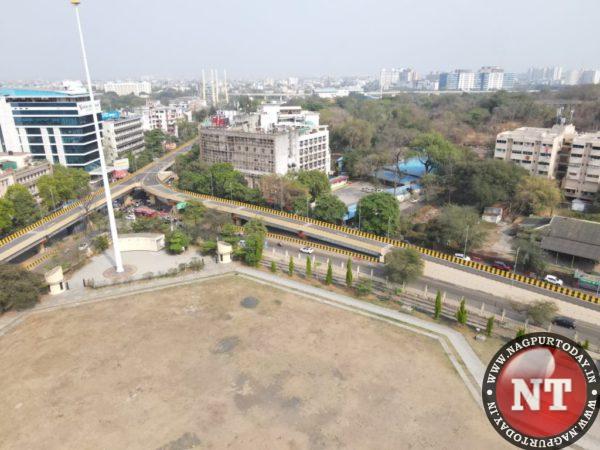 Nagpur: The Y-shaped flyover, an extension of Ram Jhula, is ready to cater to growing vehicular traffic in Nagpur. Union Road Transport and Highways Minister Nitin Gadkari and Deputy Chief Minister Devendra Fadnavis will dedicate the Y-shaped flyover to the public on Saturday evening. The extended fly-over would end congestion at Jaistambh Square, near Nagpur Railway Station, and ensure smooth movement of vehicular traffic towards LIC Square and RBI Square.
The 935-metre-long Y-shaped flyover begins from Ram Jhula-I (near Jai Stambh Square) and has two lanes up to Kingsway Hospital. From the hospital, one arm goes toward LIC Square and the other toward RBI Square. Both the arms are single lanes and were constructed for the traffic coming from Central Avenue and going to West Nagpur. For traffic moving in the opposite direction, commuters will have to use the existing Kingsway beneath the flyover.
Though the extended Y-shape flyover will definitely solve the traffic congestion at Jaistambh Square to a great extent, experts fear the new RUB will add to the crowding at Manas Chowk. Both the projects are part of the Rs 234 crore Jaistambh Chowk traffic improvement plan. The PWD had assigned the projects to Maha Metro, a media report said.
According to the report, already, several infra works, including flyovers and new DP roads, have increased traffic chaos instead of easing congestion. Some of them include Sadar flyover, Jail Road and Manish Nagar underpass to name a few. The new RUB is for Cotton Market-bound traffic, while the old Loha Pul will be used for traffic going toward Sitabuldi or West Nagpur areas. Motorists coming from the west side will experience heavy congestion, especially during rush hours, as both the entrance and exit to the new RUB are poorly designed, say experts, adding the way the RUB has been designed, chaos is unavoidable because of traffic coming from the station, vehicles coming from Tekdi Road and those heading from Loha Pul toward the station.
The exit of the new RUB will coincide with Loha Pool Road, which leads to Cotton Market Square. This point could also become an accident-prone location, according to traffic police.