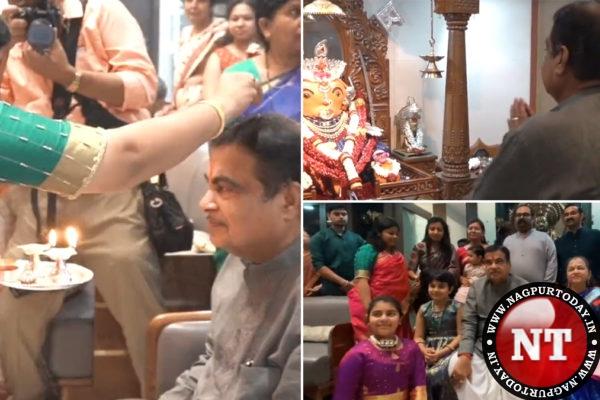 Nagpur: Union Road Transport Minister Nitin Gadkari is celebrating his 66th birthday on Saturday, May 27, surrounded by his loved ones and party workers. The occasion has drawn a significant crowd of activists and friends to his residence in Nagpur, where a festive atmosphere prevails.
With the upcoming Lok Sabha elections next year, this birthday celebration holds political importance, serving as both a personal milestone and a demonstration of political strength.
Gadkari marked his birthday by cutting a cake in the presence of his grandchildren, family members, and dedicated workers. The joyful celebration exemplified the significance of familial bonds and the appreciation Gadkari holds for his team. The occasion provided an opportunity for loved ones and supporters to express their well-wishes and gratitude for Gadkari's contributions.
From the early hours of the morning, an enthusiastic gathering of BJP workers and activists flocked to Gadkari's residence to extend their birthday wishes. The presence of a large pandal erected at Gadkari's house showcased the party's unity and support for the minister. As Gadkari received well-wishers, the exchange of greetings and the demonstration of solidarity added to the fervour surrounding the event.
With the Lok Sabha elections scheduled for next year, Gadkari's birthday celebration takes on added political importance. As a prominent leader within the Bharatiya Janata Party (BJP), his birthday serves as a platform for displaying political strength and garnering support from party workers and activists. The gathering of activists in front of Gadkari's residence reflects the growing momentum and anticipation leading up to the upcoming elections.
Union Minister Nitin Gadkari's 66th birthday celebration in Nagpur has been marked by the presence of his loved ones, party workers, and a significant gathering of activists. The festivities not only commemorate his personal milestone but also hold political significance as a show of strength ahead of the forthcoming Lok Sabha elections. As well-wishers convey their greetings and party workers demonstrate their support, the occasion highlights Gadkari's influential role within the BJP and his enduring bond with the people of Nagpur.