Nagpur: G H Raisoni Polytechnic, Nagpur had organised MSBTE sponsored State-level project competition for the final year students on 3rd March. The purpose of this competition was to identify the upcoming innovators in the field of Engineering and Technology and to make them available the platform to showcase their innovative ideas.
Sachin Jain, Additional Secretary MIDC Industries Association, inaugurated the competition while Pramod Nichat, AGM, Ashok Leyland Ltd. Bhandara presided over the programme. Other dignitaries present for the programme were, Dr S J Patil, Dy Secretary MSBTE, RO Nagpur, P G Sayagavi, Assistant Secretary, MSBTE, Mumbai, A J Fulzele, Assistant Secretary, MSBTE, RO Nagpur P K Sonkamble, OSD, MSBTE, Nagpur.
Pravin Chhaya, Sr DGM,R & D L & T, Mumbai, Dr Bhalchandra Deshmukh, G M and Head off Highway Application Engineering, Kirloskar Oil Engine Ltd.Pune, Prof R N Awale, VJTI, Mumbai, Dr A R Kambekar, Associate Prof ,SPCE, Mumbai, enhanced the graced the event by performing their role as jury members of project competition. V V Kale, Acting Principal GHRP, M M Deshmukh, Vice-Principal, GHRP along with all the Head of the Department, faculty members, participants, guides and students were also present for the inaugural ceremony.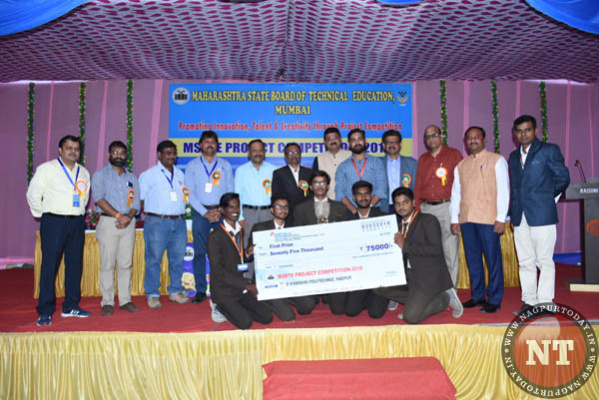 G N Akhade in his welcome speech informed about the overall programme of the project competition and its importance. Pramod Nichat gave detailed information about modern technology in future, patent system, and importance of Polytechnic Diploma in students career.
Dr Ramesh Lakhe, Secretary, Shreyas Quality Management System Nagpur, was chief guest for the concluding programme. Dr S J Patil, Dy Secretary, MSBTE,RO Nagpur, was Guest of honour. P G Sayagavi, Assistant Secretary, MSBTE, Mumbai graced the occasion. Other dignitaries present for the programme were Dr Vivek Kapur, Director, Shradha Park Campus, RGI and Dr Manoj Diagavane, Principal, GHRIET, Nagpur.

The First Prize was won by "Smart Handicap Trike" of G H Raisoni polytechnic, Nagpur, which consisted of a Trophy and Rs 75000/- cash and Second Prize was won by "Development of Advance Room Cooler" oF NIT Polytechnic Nagpur, Trophy and Rs 41000/- cash. Total 58 projects from all over Maharashtra participated in this competition. Every year 10 projects get patent through this competition.
Om Wankhede and Arun Wankhede, Mechanical Engg Deptt along with their Committee members took efforts under the guidance of G N Akhade, Principal, G H Raisoni Polytechnic, Nagpur to make the event a grand success.