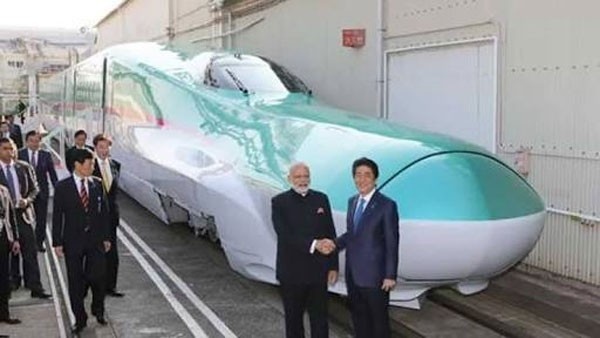 The Maharashtra government Monday said that the state's infrastructure projects funded by Japan International Cooperation Agency would not be affected against the backdrop of the agency reportedly stopping fund release for the Mumbai-Ahmedabad bullet train corridor.
The JICA has reportedly stopped the release of funds for the high speed rail project citing objections raised by farmers in Gujarat on its land acquisition process. Several of these farmers have approached Gujarat High Court.
Additional Chief Secretary (Finance) U P S Madan said Monday that land acquisition for Maharashtra projects funded by JICA have been "almost completed" and, therefore, it was "unlikely" that funding would stop for them.
"The land acquisition for projects such as Nagpur Mumbai Samruddhi corridor, the Mumbai Trans Harbour Link (MTHL), the Navi Mumbai greenfield airport is almost complete," Madan said.
"The Maharashtra government has not faced any staunch opposition for these projects and hence it is unlikely that funding will stop for such projects," Madan added.
He claimed that land acquisition for these projects had been done as per rules.
These projects are big ticket ones running into several thousand crores each and a delay in funding could hit completion deadlines, another official from the state's Finance department said.
The Mumbai-Ahmedabad High Speed Rail project is being executed by the National High Speed Rail Corporation Limited, a special purpose vehicle of the Railways and the governments of Maharashtra and Gujarat.
The 508-kilometre corridor would require around 1,400 hectares of land in Gujarat and Maharashtra, 1,120 hectares of which is privately owned. Around 6,000 land owners will have to be compensated.