The company aims to expand to more markets by the coming year including interior areas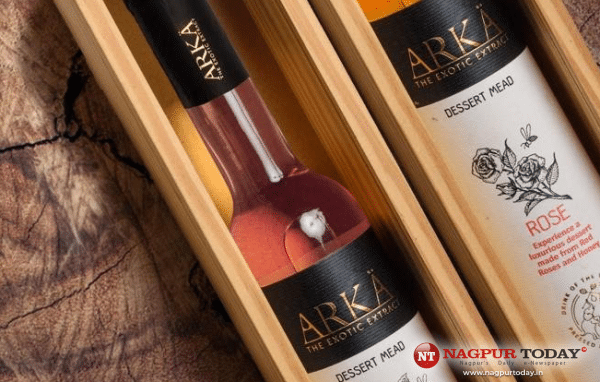 Nagpur: Hill Zill Wines Pvt. Ltd., the manufacturers of Fruzzanté, one-of-its-kind sparkling alcoholic beverage,recently launched their premium honey mead brand called Arkä in Nagpur. With increased market penetration at the core of all its strategies, Arkä will now be available in the interiors of Maharashtra also including Akola, Amravati, Bhandara, Gondia and Chandrapur.
Arkä is made from honey extracted from bee hives that is then fermented and presented as mead, a drink which has been mentioned in ancient scriptures dating back to 100 BC.Wildflower Honey, Rose, and Jamun Berries are integrated into this ancient concoction to make this dessert mead. The three flavors currently available include Arkä Honey, Rose, and Jamun. Like every other Fruzzanté product, the Arkärange is also an outcome of products sourced locally in the region.
Speaking about this, Priyanka Save, Founder / Director, Hill Zill Wines Pvt. Ltd, said, "We are very happy to launch our mead brand Arkä in Nagpur. This is crucial market for us since the acceptance for new products is great and even Fruzzanté, received a very warm welcome from customers. We plan to make the brand available in many new markets by 2022 as part of our expansion strategy."
Arkä Honey is a luscious dessert mead inspired by the wildflower honey found across forests along the Sahyadri ranges. It is characterized by playful tones of honey, hints of citrus, and floral notes. The mead makes a perfect dessert for a special occasion or simply makes an occasion special.
Arkä Rose is an ultimate expression of luxury. Red Rose forms the essence of this delicate dessert mead. No sooner do you open the bottle than you are pleasantly surprised by the aroma of fine Red Tea Roses. The aroma takes you through the mesmerizing site of rose gardens while you dip into the romantic rendition of Arkä Rose Dessert Mead.
Arkä Jamun is made from Jamun that is cultivated across the world but finds its home amongst the estates of India. This tannic fruit forms a prominent part of farm life, yet remains an untapped treasure amongst the world of stone fruits. Fermented in barrels, it imparts a velvety texture and smooth finish to the Indian origin with truly international quality in Arkä Jamun Dessert Mead.
Hill Zill Wines Pvt. Ltd. is focusing on creating drinks for people who wish to enjoy good experiential drinking. The brand envisages helping the local farmers across Maharashtra by sourcing directly from them and ensuring that they get paid their dues. While their brand Fruzzanté is also set to expand its product range and add variants like Orange and Spice Garden. Within the next 5 years, their aim is to be available in all major metros and start exporting their Made in India wines too.
Arka will soon be seen in many new markets by 2022.