Master plan of riverfront development submitted to Municipal Commissioner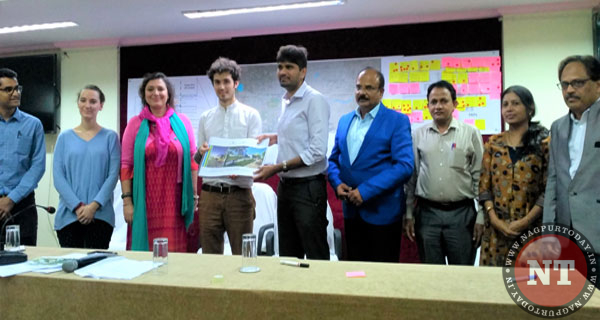 Nagpur: A French agency has taken lead to give facelift to the historic Nag River, the signature river of Nagpur. The France Development Agency (AFD) has completed survey of Nag River and submitted Rs 1600 crore master plan of riverfront development to Municipal Commissioner Abhijit Bangar.
Nagpur Municipal Corporation has taken up two projects related to rivers in view of conservation of environment. First project is Nag River pollution abatement and the second one is beautification of riverfront.

Under these plans, NMC will beautify both sides of Nag River, provide recreation facilities, develop pilgrimage and tourism spots etc. Japan International Cooperation Agency (JICA) will be providing assistance of Rs 1252.33 crore in the form of soft loan.
Meanwhile, a team AFD visited Nagpur Municipal Corporation for participating in a 3-day workshop held from December 10 to 13 at Vanamati. Officials of NMC, Maha Metro, VNIT, NEERI, NIT, Forest Department, Agriculture University, Smart City Project, NESL, and other stakeholders were invited to the workshop. Detailed discussions on flood management, rehabilitation, bio diversity, environment and various other issues.
The France Development Agency has selected three cities in the country including Nagpur, Chandigarh and Puducherry. The master plan of riverfront development was submitted to Municipal Commissioner Abhijit Bangar. NMC's River Team Chief and Technical Consultant Mohd Israel coordinated the workshop.
Others present in the workshop include Additional Commissioners Ravindra Thakre, Ram Joshi, Aziz Sheikh, Deputy Commissioner Rajesh Mohite, AFD's Gautier Kohler, Valentine Lenfant, Sibila Janksic, P K das Association's Samarth Das, Missaka Hettiarchchi, Priyanka Jain, Blanche Varlet and others. The cost of the project is Rs 1600 crore.