Nagpur:
As you come west from Hotel Centre point and Tuli towards VNIT on the Central Bazar road, you will across a stretch by the road side that is a Foodie's paradise. You want to eat authentic Punjabi? Saoji paya and chicken? Pure vegetarian Maharashtrian style with puran poli and jhunka bhakar? Or you crave for traditional food cooked on earthen clay choolahs?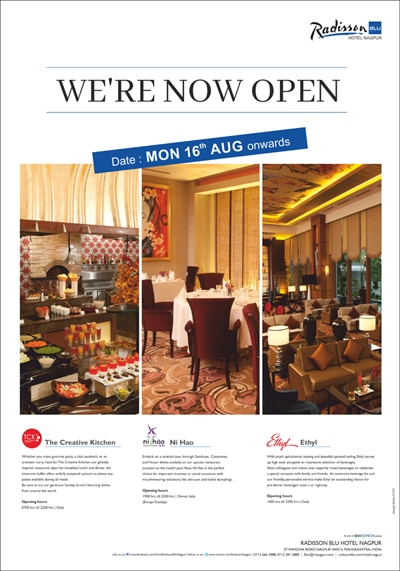 Well, just come here and pick an eatery that picks your fancy! There is Punjab di Rasoi, Vishnuji ka dhaba; Samadhan lawn; Dana Pani…quite a choice. Parking no problem – full stretch of road ahead to park on either side.
Or, you want to hold a reception in a 'lawn' with a somewhat 'limited' budget? (Not so limited anymore, we find out…) There is a choice of 4 – 5 to choose from; by the time you read this another one may be added, so fast are they growing. You will be needed to shell out from Rs. 50,000 to Rs. 3 lakhs, depending on the size you are looking for.
There are other services available too – car repairs; selling/ purchasing second hand cars; shop for ready made garments or a nursery for those with green thumbs.
What do all these establishments have in common?
They are illegal, encroaching on lands belonging on paper to the Punjabrao Krishi Vidyapeeth, which was given to them by the State Government for their Research projects.
Many years ago, there was a small 'settlement' of outside people here in one corner of the approximately 50 acres patch of land that was known as 'Kachipura'. It still exists, though many others live there now apart from Kachi people.
How Kachipura came about:
This community was brought to Nagpur from Benaras and other parts of UP, to grow 'exotic vegetables' which were traditionally not grown by Vidarbha farmers who knew only 'baingan' , 'methi' and 'tamatar'.
You wanted green salad; or capsicum, when not in season? Or beets, cauliflower, french beans – believe it or not, these were not vegetables that were available in our weekly markets of Gokulpeth, Sitabaldi or Mangalwari. But the Kachi people knew to grow them and also market them at fancy prices. Some say the British brought them and gave them land to farm and grow vegetables of their choice; some opine that it was the Bhonsle Kings and not British who did it.
Apart from growing exotic vegetables, some people of community were also known for their violent ways. Inter family rivalries and gruesome murders were the order of the day – or should one say night? So much did this menace grow that ultimately a police station was established right at the entrance of Kachipura to keep an 'eye on happenings'. Unfortunately, this small thana is often unmanned.
Given to PKV by State Government
But as per Dr. Sharad Nimbalkar, who was Vice Chancellor of PKV from 2002 to 2007, this land never belonged to the Kachi community. They lived here first at the pleasure of the British and then the State government who continued being rightful owners of the land.
During British times too, this 50 acres land was part of and contiguous to the huge stretch of lands that were owned by the reputed Agriculture College of Nagpur, whose handsome red building still stands as a heritage structure in front of Maharaj Bag zoo – which also technically belongs to it.
When separate agriculture universities were carved out in Maharashtra, these lands naturally were transfered to PKV by the state government.
By then the Kachi people had turned 'real estate owners' from being humble agriculturists. They became upwardly mobile and ambitious . Their kids did not want to continue growing vegetables.
Legal Imbroglios
PKV finally had to approach High Court to clear the land from this growing 'encroachment' and 'commercialization'.
Hearing the case, Justice Bhushan Gavai, had favoured PKV but had also counselled PKV, which was headed by Prof Nimbalkar then as VC and the Kachi people to come to a mutually acceptable compromise.
As Nimbalkar recalls, a plan was drawn up where MHADA would be involved too and would build homes for the community which would then evacuate the rest of the land for PKV's use. The seniors of the community agreed to this plan.
"But the youngsters scuttled this plan and refused to move out from additional lands 'grabbed' by them. PKV finally had to approach the Supreme Court where this case is now going on" says Dr. Nimbalkar.
Instead of evacuating they continued spreading and 'renting' out lands generously to hotels, lawn owners and other establishments. They do so by signing some 'internal agreement' which has no legal standing.
"What is unfortunate is that politicians of all parties and NMC officials have sided with the illegal settlers and allowed this to happen" bemoans Nimbalkar.
"So instead of allowing us to claim what was ours ( given to us by the State Govt. only) they gave these establishments water and power connections enabling them to become almost 'permanent'. We, on the other hand, had one 'Estate Manager' who used to come here on cycle to 'safeguard' PKV's interest. It was no match".
One now hears that CM, Devendra Fadnavis, in whose constituency this disputed land lies, and who has been repeatedly elected from here is going to 'look into the issue' and see if it can be solved.
We wish him the best!
-Sunita Mudaliar and Rajeev Ranjan Khushwaha