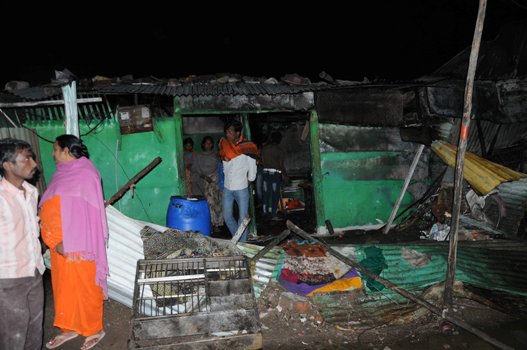 Nagpur News :
Five labourers families were shattered and lost their shelter after a major fire erupt at one of house due to the cylinder leakage and gutted down all five shanties at Wathoda lay-out on Kharbi road on Monday evening. In the fire, a 24-year-old Shaikh Nasreen suffered serious burn injuries.
Enraged labourers claimed that the fire tenders reached thirty minutes late after being informed and by the time, the fire officials reached, all shanties were gutted down. Three fire tenders were brought into action and the situation was control in 90 minutes.
Police said that Nasreen, wife of Shaik Nadir, was cooking food when she noticed the gas leakage. However, before she could act, it exploded and she came out caught in flames. While Shaikh and his neighbours were busy taking Nasreen to hospital, the fire spread at other neighbouring houses.
All five families were left in grief.