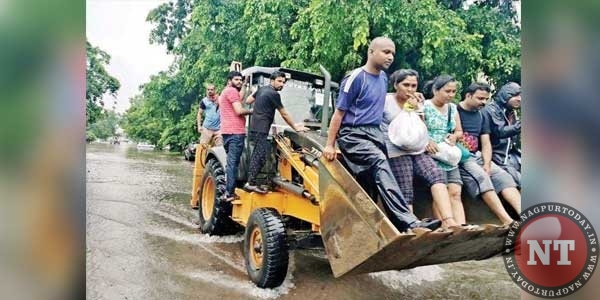 Nagpur: Around 10 members of four families, including a 75-year-old woman and two toddlers, were staring at death as the water level was constantly rising in the room at Deendayal Nagar. But thanks to the cops from Rana Pratap Nagar police station, they were pulled out to safety.
One toddler was around one-year-old, while the other was one-and-a-half years old. After bringing the families out, the cops took help of NMC personnel to shift them out of danger in an innovative manner on a JCB machine. The family members were accommodated on the machine before it waded out of the flooded water into a safer zone.
The four panicked families of Rushiyas, Karandwars, Inthans and Kodliwars, staying on the edge of a nullah, were huddled together for support when the rain started lashing the city. The families were in the house of Karandwars. As the water level started rising, the families decided to call up police control room for help.
The control room immediately alerted the Rana Pratap Nagar police station. A team under API SS Shirke, PSI FJ Kendre, Pramod Dhote and Shaizad Shaikh rushed to the spot and dragged out the trapped families by making a human chain.
"The water had already reached chest level when we reached. When we were bringing the family members out, the water was touching the shoulders," said naik constable Hardas, one of the rescue team members.
"We ensured that the rest of the locality was evacuated and no one remained trapped as the adjoining nullah had started flowing dangerously above the safety level," Shirke said.