Nagpur: It is time again when the effigy of Asura King Ravan is going to be burnt to ashes symbolizing the victory of good over evil.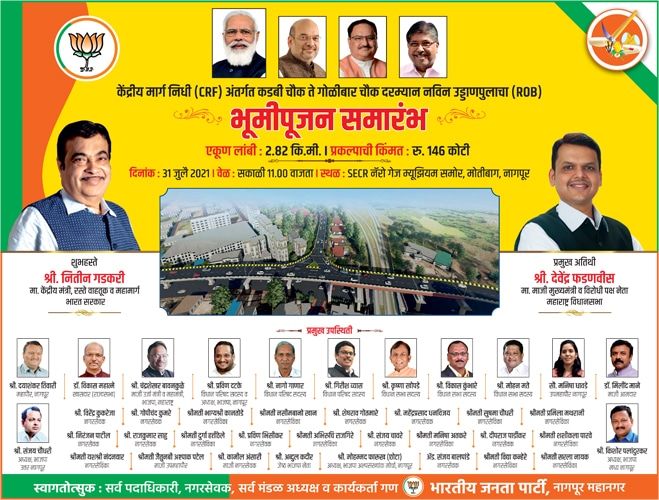 Nagpur Today did some research and found out the skilled artisan who makes Ravans for the last many years.
The skilled artisan is none other than Hemraj Singh Binewar. He is 79 years old and is a resident of Gandhi Gate area in Mahal near Shivaji's Statue. While speaking to Nagpur Today, Hemraj Binewar said that his ancestors used to make statues and images of paper machete for the Bhonsale Royal family.
In 1952, a Lecturer of a local college named Dhyanchand who hailed from Punjab wanted to get a huge Ravan made. He searched everywhere in the city and finally came to Hemraj Binewar and assigned the job of making the effigy of Ravan. So Hemraj Binewar made a huge effigy of Asura King Ravan 40 feet high.
So for the first time in Nagpur city, Ravan Dahan was performed in the year 1952. This Ravan Dahan was performed in Ravi Nagar Grounds. The Ravan Dahan continued at that spot for 2 to 3 years.
After that, in order to ensure that more people are able to witness the Ravan Dahan, the entire operations were shifted to Kasturchand Park grounds. Later on the Sanathan Dharma Sanstha took over the onus of organizing the Ravan Dahan at K P Ground, every year. Now Ravan Dahan is held in many places in the city including KP Grounds and Tilak Nagar Grounds.
His entire family, including his two sons and close relatives are in this business of making the effigies of Ravan. Nearly 15-20 family members and a few artisans are involved making the effigies.
Every year, there are about 45 effigies of Ravans made by Hemraj Singh Binewar and his family. The effigies made by him are in hot demand and are wanted by Hindu devotees from Madhya Pradesh and in Vidarbha from Katol, Kondhali, Ramtek, Saoner, Yavatmal and Amravati.

Hemraj Singh Binewar told Nagpur Today that the effigies are made in pieces and later assembled at the spot using big cranes. The fire-crackers too are affixed at the spot. The cost of making one decent sized effigy of Ravan is said to be Rupees 15000/- to 25,000/-. He added that while last year the height of the effigy of Ravan, Kumbhakaran and Meghnat were around 80 feet high, this year the height of Ravan is only 60 feet high. Hemraj Singh Binewar claimed that no one else can make Ravan like him. He said that every year and every effigy of Ravan is unique and different.
However, Hemraj Singh Binewar claimed that even after so many years, his hard-work and his skills have never been recognized by the government nor has he been awarded by any government body.
Hemraj alleged that a few years ago, Women Activist Seema Sakhare had opposed him making effigy of Ravan and burning it. However, the members of Sanatan Dharma Sanstha stood by him and he continues to make effigies of Ravan.
By Samuel Gunasekharan