Nagpur: This is what a Nagpur Foodie complained on Facebook…reproduced here in his exact words:
""On 10th June it was my moms bday so ordered cake through foodpanda from Sadar based Restaurant (name withheld )…Cake was ordered at 11.30am it reached me at 3.30pm that too not properly… Whenever i ate food or cake from i felt ill…i first thought its just a coincidence but my mom my small sis both have fallen ill and are facing stomach ache and vomiting…. The cake was kept in refrigerator after i received it on3.30pm… The cake cutting took place at 6.30pm after the cake was cut and we started to eat it it smelling little bit weirdly first we thought it might me smell of fruits nd all and ignored and ate it and that was our biggest mistake ……..today me , mom, my small sis are having severe stomach ache….we have to throw away remaining cake as it was stinking on 11june morning……. i have not written this post to defame or threaten or offend anyone…"
Many of his friends and other Nagpur Foodies reacted to that saying they had become victims of food poisoning too after eating fast food from this joint, which otherwise has been a popular eating place and been around for many decades.
Also reproduced below are a report of a complaint we received from an NRI about some non-vegetarian food they consumed in Nagpur and his experience of what happened subsequently: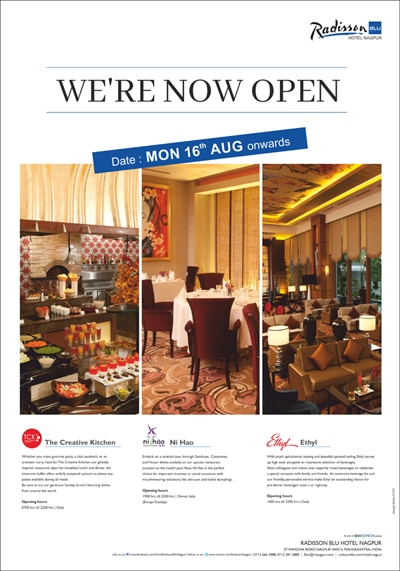 Family members get food-poisoning after consuming Tandoori Chicken
In what could be mentioned as bringing dishonor to our country and Nagpur city, a Non-Resident Indian (NRI) had purchased some non-vegetarian food from a reputed hotel situated right on the main in Kadbi Square on June 11, 2015, only to find that all those family members who consumed the food displayed signs of food poisoning.
According to the victim identified as Sudesh Kamble an NRI from USA who is in the city visiting his relatives, wanted to taste the much talked about Tandoori Chicken. So he went to reputed Hotel Rice and Curry situated near the Petrol Pump, right on the Kadbi Square on Kamptee Road on June 11, 2015.
He got a Tandoori Chicken parceled and had taken it home to eat with his family members. all the members displayed signs of food poisoning immediately after consuming the Tandoori Chicken.
Being a conscientious citizen and in order to ensure that others do not consume the particular lot of Tandoori chicken cooked today, the victim Sudesh Kamble rushed to the Hotel Rice and Curry from he had purchased the Tandoori Chicken and complained to the owner about the food poisoning.
However, instead of stopping further sale of the particular item, the owner of the Hotel had allegedly offered an exchange of some other food item. The owner of the hotel is alleged to have even offered the victim some money to hush up the matter.
The victim Sudesh Kamble while speaking to Nagpur Today claimed that he was a Scientist is based in Washington DC and travels more than 23 countries round the year on various assignments and knows the symptoms of food poisoning. He said that he went to Hotel not to claim some compensation for the food poisoning or even an exchange of some other food item but to prevent other innocent customers or consumers from eating the Tandoori Chicken from this particular lot which could have become stale causing food poisoning to anyone consuming it.
This story is not to malign or cast aspersions on few hotels of Nagpur, just to question what our administration does when there are reports of food poisoning anywhere in the city?

Food poisoning, especially in summer months and the humidity in the air just now, can be killing
Food can spoil quickly, unless refrigerated, and even after cooking the bacteria will not die, as must have happened in the case of the Tandoori chicken.
Nagpurians and NT readers are therefore advised to report any case of food poisoning at once to the concerned authorities and not just make complains over social media or to friends.
SOME PRECAUTIONS TO TAKE IN SUMMER
Do not consume fruit juices that have been 'squeezed' from equipment that is being used repeatedly without being washed and sterilized.
Do not thaw food from refrigerators at room temperatures and then cook.
Keep raw fruits and vegetables and raw meats you have be keeping in your fridge/ freezer in completely different compartments.
Check for expiry dates on packaged foods in tetra pack and tin containers.
If any food you have bought from outside, say a restaurant, is found to have an unusual taste/ smell do not consume it at all.
IF YOU HAVE FOOD POISONING
If you get stomach cramps, pain followed by vomiting and diarrhea immediately after eating anything it is a sure symptom of food poisoning. What should you do in such a case?
Drink lemon water with salt and sugar in it to avoid dehydration.
Drink water with honey and ginger drops to control pain and inflammation.
Contact the Doctor if symptoms do not reduce within a few hours