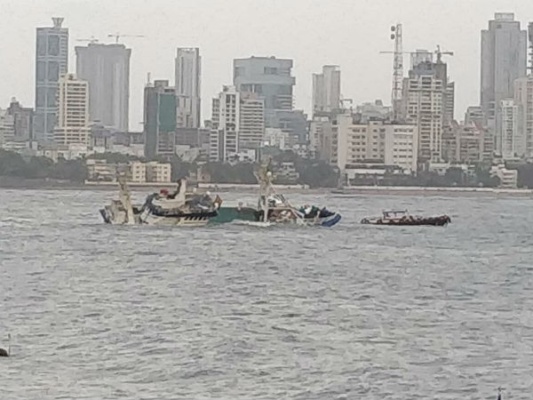 Mumbai: Popular floating restaurant 'Ark Deck Bar', off the coast near Bandra here, capsized and sank partially on Friday evening under the possible impact of huge tidal waves trigged by the Mekunu Cyclone, police said.
At least 15 people on board, mostly crew, were immediately rescued as the vessel tilted dangerously this evening and were taken ashore in small motorboats, according to an official of Bandra Police station.
The 'Ark Deck Bar' floatel, a luxurious offshore dining and party attraction, has a capacity of around 150 people and was anchored some distance off the Bandra Jetty, offering a magnificent view of the Mumbai skyline and the Rajiv Gandhi Bandra Worli Sea Link nearby.
Meanwhile, the owner of Mumbai's first floatel, 'AB Celestial', Aishwarya Bhende said her vessel was shifted to and anchored off the Ferry Wharf in south Mumbai a couple of days ago after the Mekuni Cycone warning was issued by the maritime authorities.
"Our floatel is absolutely safe and is in anchor at the Ferry Wharfa There is some speculation that it had met with a tragedy, but that is not correct," Bhende told IANS.
Besides 'AB Celestial' and 'Ark Deck Bar', Mumbai has another half a few more big and small such floatels around the shores as part of the centre's policy to encourage tourism.