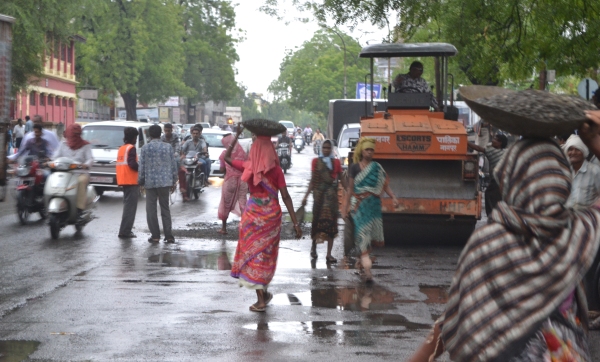 Nagpur News:
Advent of monsoon has been worrisome to Nagpur Municipal Corporation every year as the first showers only expose the local body's preparedness to tame the water clogging and ugly face of roads. This time too, the NMC's lackadaisical approach towards adhering to the rainy woes of citizens came out in the open as the pre-monsoon showers lash parts of Nagpur on Monday.
As the heavy rains for sometime on Monday turned the roads clogged with water in various prominent areas in the city, NMC hushed up desperately for the patchwork to hide the glitch.
The water flooded roads near LIC square on Monday gave a starkingly clear picture of what NMC was upto in order to cover its goof up.  The readiness for repairing potholes too surfaced as NMC workers were seen filling up the faulty roads in the eleventh hour.
Instead of any fool proof mechanism in place, NMC officials always try to come up for temporary solution to drain out the accumulated water. On Monday, some NMC workers were also dispatched at LIC square to develop a temporary inlet to drain out the rain water.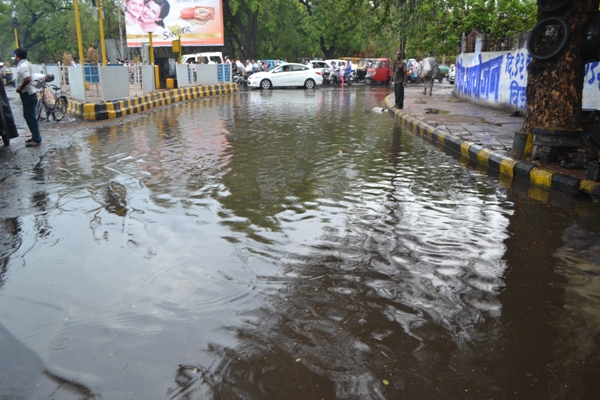 Sources say that this time situation is tend to go worse as the starting showers have only exposed the NMC's goof up for rainy season preparation.  Citizens seriously doubt NMC authorities might fall drastically lame when the rains would go from normal to torrential.
A citizen said come rains and the irony starts surfacing, revealing the pity state of roads.