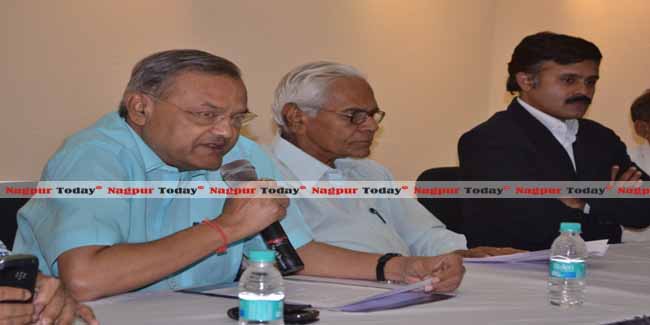 Nagpur News.
Come Dussehra and freedom would find yet another expression in Butibori, a suburb of Nagpur. Amidst the stalwarts of politics and known names in the field of arts, media and education, the statue representing freedom of press will be unveiled on the big day of Vijayadashmi. A noble yet unique initiative by the city's publication giant Lokmat Media Ltd, the kingsize statue named as 'Statue of Freedom of Press' will show a picture of journalistic liberty in different light.
The Statue will be unveiled at the hands of the Union Home Minister Sushilkumar Shinde on October 13, 2013 at 9 a.m. The Black marble statue shows a man and a woman reading a newspaper and it is installed atop a jet black granite pedestal. It has been put up amidst lush green surroundings with water body and water fountain nearby in the Lokmat's sprawling printing press complex spread over 10.6 acres.
At the press conference held at Jawaharlal Darda gallery on Wednesday, Ashok Jain, Director Operations Lokmat Media said, "Lokmat is the product of freedom movement. Lokmanya Bal Gangadhar Tilak  had named it, Mahatma Gandhi guided it and Loknayak Bapuji Aney influenced it culturally and the founder of Lokmat Group and freedom fighter late Jawaharlal Darda accepted the guardianship of the paper.
Ashok Jain further added that history has blessed Lokmat from its very inception. The fledging newspaper was nurtured and nourished with the sweat and blood of freedom fighters and the sapling today has turned into a mighty tree.
Undercurrent theme behind statue
A man and woman reading a newspaper symbolizes a couple representing common people. Both of them are jointly reading a single newspaper and that symbolizes women's keen involvement in pursuit of knowledge alongside men. In the statue, printed word is regarded as truth and so the newspaper here represents knowledge and truth. The single platform on which the couple is sitting and that too under an open sky symbolizes the freedom they are enjoying and the entire sculpture represents Freedom of Press.
Tribute to The Hawker too
To acknowledge the hawkers' remarkable contribution to the press and society, a statue of a hawker alongside the freedom of press statue is also being installed. This is for the first time in the world that a newspaper organization is honouring hawkers who form the crucial link with readers in the supply of newspaper. A 12 feet tall statue depicts a hawker selling newspaper daily riding a bicycle, informed Ashok Jain.
Eleven Senior Journalists from Maharashtra and Goa will be felicitated during the ceremony.
In the Press conference Ashok Jain, Nilesh Singh (GM Lokmat media ), Dilip Tikhile (Exe-Editor Lokmat), Ramesh Bohra, Vikas Mishra ( Editor Lokmat Samachar ) and N.K.Nayak (Exe-Editor Lokmat Times) were prominently present.