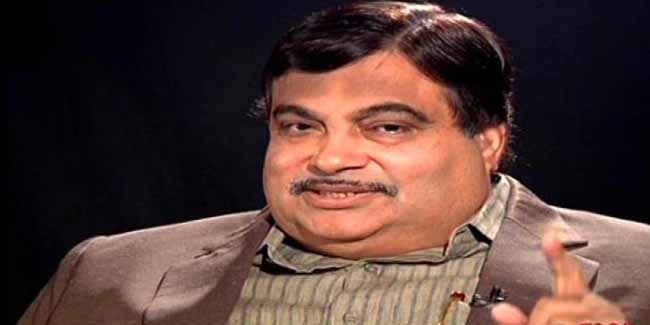 Nagpur News : In his first interview to Hindustan Times after IAC activist Arvind Kejriwal accused him of getting agriculture land in Maharashtra in collusion with the Congress-NCP government, BJP president Nitin Gadkari said he knew from the beginning that they could not produce anything against him when they had been creating a hype about "big exposes.
Excerpts:
Q: What's your first reaction? Are you relieved they couldn't produce a big bang against you?
What could they have produced against me? This is a conspiracy from the beginning against the BJP – just an attempt to show as if we are all thieves so that their political party can be launched. IAC activists have damaged only their credibility…What rules were bent? What is the scam? Waste land was given to our charitable trust for raising sugarcane nursery after 22 years of it was acquired and lying barren. Secondly, our projects don't consume even 0.85 % of dam water…(Arvind) Kejriwal must see what we are doing and how farmers are benefitted. Instead of showing our calendar to mock us, they should see what's on there.
Q: But why are you on their target?
Ever since I came to Delhi to take over as BJP president in 2010, I have been targeted without any evidence, whatsoever. First, it was about a girl's death in Nagpur. Maharashtra police crime branch investigated and found no evidence. Then, it was about my having a flat in the Adarsh Society, which was again totally baseless. Later, it was that I was a business partner with (NCP leader) Sharad Pawar and Ajay Sancheti! Tell me, have I taken any contract or land from the government for my benefit? If one charge is proved, I will quit politics.
Q: Why is there so much buzz about your sugarcane business?
It's not so much a business project for me as much as a social-economic one in Vidarbha. Many sugar mills have closed down or gone defunct. Our group and 15,000 other share holders revived a sugar mill in Bhandara after winning an open bid thrice and took Rs. 400 crore from Nabard. We have provided jobs to 6,000 people. I became BJP president by accident; otherwise my attention was on social work in Vidarba. We have even organised 2,000 heart surgeries.
Q: Haven't your business friends got you into this situation?
I don't do business with my friends. It's a wrong perception. As Maharashtra PWD minister between 1995 and 1999, I had a series of roads, highways and flyovers built across the state including the Yashwantrao Chavan Mumbai-Pune Expressway, involving Rs. 8,000 crore. Was there a single complaint of corruption against me when so much money was involved? On the other hand, there was all round praise for cost cutting and timely completion of these projects.
Q. What about your letters to the Centre for release payment to contractors for the Vidarbha irrigation project?
I wrote, like other Congress and NCP leaders, for completion of national irrigation projects like Gosikhurd that were deliberately held up. The cost went up from Rs. 380 crore to Rs. 14,000 crore. There are 288 contractors working for the project. Did I write favouring any one contractor? This was my MLC constituency. How long should the project be delayed when 10,000 farmer suicides have taken place over so many years? This project is to help five districts – Nagpur, Bhandara, Gundiya, Chandpur, and Garhchiraulli.
Q: Are you not soft on Maharashtra leaders including Sharad Pawar?
That is no true. I never made a statement that Pawar and I have chaar kaam (four jobs) to do each other. It is preposterous to suggest that we do business. Of course, I do enjoy good relations with our rivals including Congress and NCP but that doesn't mean we do not take up issues against them. My political rivals do not become my enemies. But who took up the issue of (Abdul Karim) Telgi when the stamp paper scam made headlines? There have been other controversies too which my party and I have pursued strongly…
Q: What's your best defence?
I am not afraid of any campaign because I am not corrupt. You can conduct any inquiry into all those allegations. At least, thrice I have got apologies from people who accused me of corruption. First, it was Anna Hazre who apologised to me after naming me among the tainted ministers. Then, it was Congress spokesperson Manish Tiwari and a leading newspaper which wrote against me.
Q: These controversies are bound to affect the grand plans of RSS-BJP for you? Won't this cast shadow on your second term?
What grand plans for me? I was given this assignment (BJP chief) to strengthen the party, which I have tried to do my best. I don't fear anything nor seek any office. My perspective on life changed after I survived a worst road accident five years ago. I don't seek anything. The BJP will bounce back and nobody can stop it in the next Lok Sabha elections.
Q. Isn't Nagpur-based businessman Ajay Sancheti close to you and won many contracts? You wrote letters favouring him and others?
First of all, these contracts were given to (BJP Rajya Sabha MP) Ajay Sancheti before I became the president of the BJP. As a minister I've not awarded a single contract. As PWD minister, no road contract was given to him or his company. Sancheti has been doing business from the last 30 years. He is third generation businessman and contractor. That is nothing to do with me.
Q. You spoke of performance audit when you became BJP chief. What does your audit say about yourself?
I don't do audit on my own performance. It's there for others to see. We have worked all these months to bring different sections closer to us. Our recent poll victories are a pointer to our future. The big message is that the BJP is firmly on its feet and we will see the results in the next polls, whenever they are held. We are ready and will win.