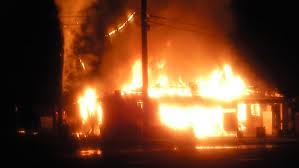 Nagpur News:
Eight shops were gutted and good worth Rs. 2o lakh destroyed in a fire that broke out in Timber market in Lakadganj on Sunday early morning.
The fire broke out around 4.30 am due to alleged short circuit in one of the shop. Within minutes, it extended to other neighbouring shops as there was wooden furniture attached. Around eight fire tenders were called in and it took almost six hours to control the situation. Luckily, there were no casualties.
Later, around noon, a fire broke out at the State Bank of India, Wardhaman Nagar branch. As it was Sunday, the bank was closed. The flames were noticed by the guard from computer room. Soon he informed senior officials who then alerted fire department. Within few hours, the fire was brought under control. Cops suspect short circuit in computer room might have led to fire.