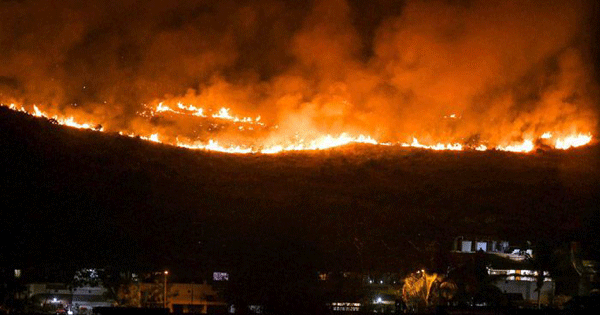 Mumbai: The massive fire that erupted on Monday near the Aarey Colony forest in Mumbai's suburban Goregaon was doused on Tuesday morning. As per initial reports, no causalty or property damage was reported.
Fire department officials had been trying to contain the fire since Monday evening but the wind coming from the hills made the task difficult, triggering an alarm as flames threatened to affect the tribal residents in the city's biggest green lung.
The blaze started around 6:30pm in an open plot near an IT Park along the General Arun Kumar Vaidya Marg in the western suburb, located adjacent to the Colony.
"Fire personnel are trying to put out flames with 'beaters', the branches of trees that are being used to create a fire break, as they have no access to fire appliances," Chief Fire Officer Prabhat Rahangdale said on Monday.
"Until 7.30 pm, the blaze remained confined to trees, dry leaves etc. Within a distance of 3-4 km from the spot of fire. However, in the night it started moving towards the residential localities," he said.
Aarey Colony, which is spread over 16 square km, includes 12 villages.
A total of 10 firefighting engines, seven JTs and three Quick Response Vehicles were pressed into service to douse the fire. Apart from fire personnel, forest officers and Mumbai police personnel also helped in putting out the flames.