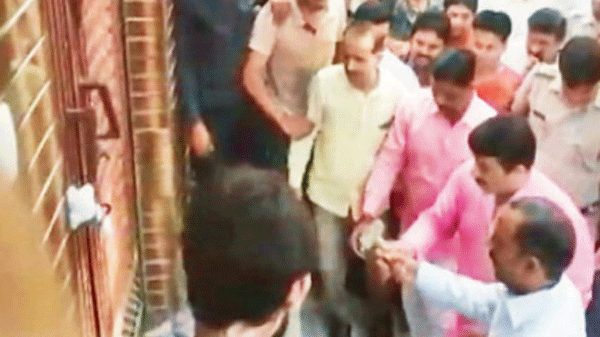 New Delhi: An FIR was on Tuesday registered against Delhi Bharatiya Janata Party (BJP) President Manoj Tiwari for breaking a sealed lock of a house in Gukulpur area on Sunday. The FIR against Manoj Tiwari was registered under sections 188 of the Indian Penal Code (IPC), and 461, and 465 of Delhi Municipal Corporation (DMC) Act.
Protesting against municipal officials pick and choose" system, the BJP leader had on September 16 broke open a sealed lock of a house in an unauthorised colony in Delhi's Gukulpur. Justifying his act, Tiwari said that he broke it open when the Gukulpur residents told him that the municipal corporation had sealed only one house among the 1,000s.
"I broke the seal against the pick and choose policy by the corporation. The locals claimed all the houses were illegally constructed but a particular house was singled out for action by the corporation," he had said. He further said that he would soon approach the top court regarding the issue of "pick and choose" sealing drive.
"I will not even spare municipal corporations, even though the BJP rules them, in such matters," he said, adding that the Delhi-led government had failed to address the issue of illegal colonies in the city. "The Congress-ruled Delhi for 15 years and the AAP is at the helm of affairs for the last 3.5 years. They never made any sincere efforts to address the issue of unauthorised colonies in Delhi," he said.
The sealing drive is being carried out by a Supreme Court-appointed Monitoring Committee against business establishments using residential properties for commercial purposes. It is being implemented by the three BJP-led municipal corporations in Delhi.