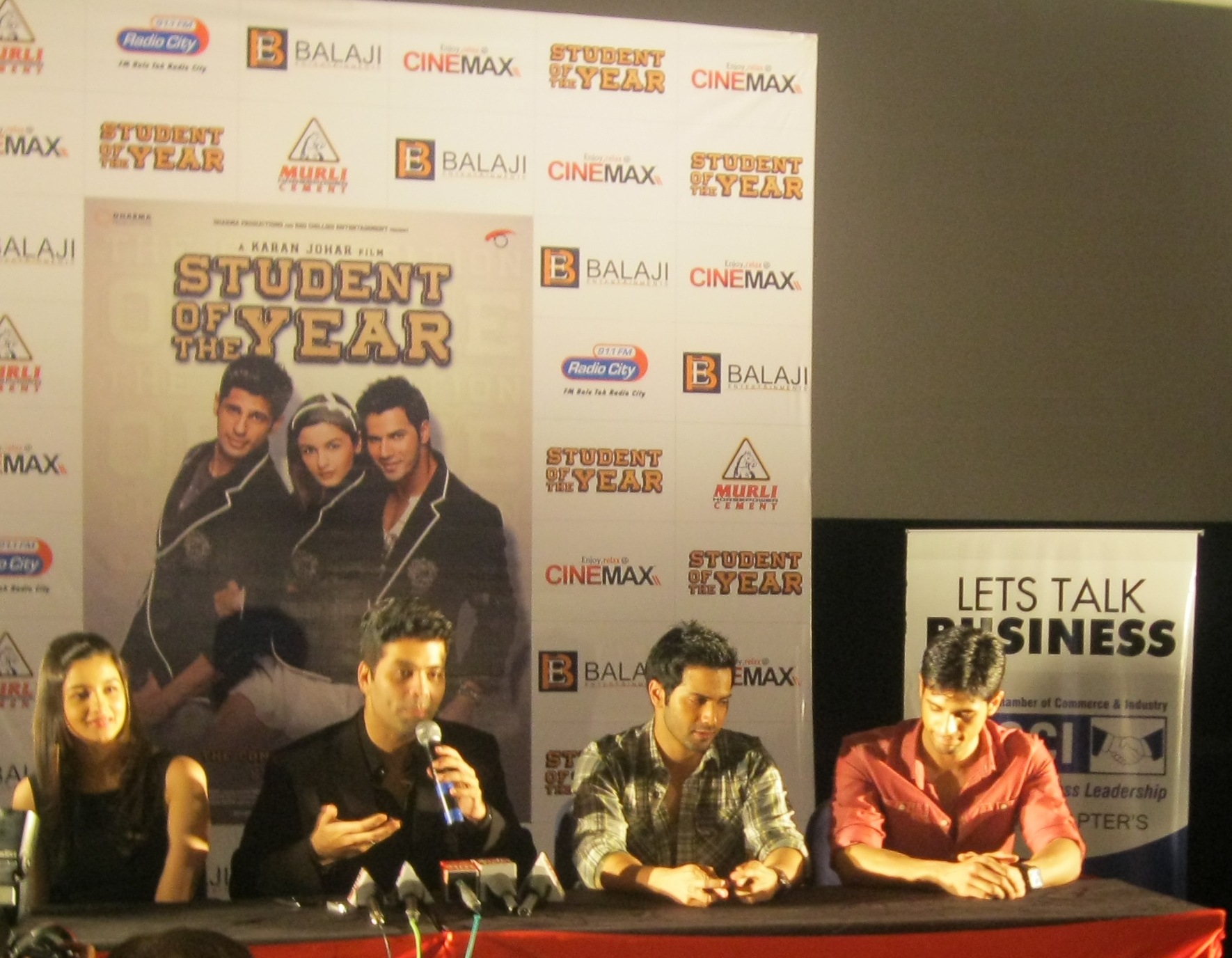 NagpurToday–As we all know Karan Johar was in the city today, Cinemax, Buldi and talked about the film. Here are some highlights from the PRESS Conference.
KJo has come back into Direction after " My Name is Khan" with the new cast Aliya Bhatt, Siddharta Malhotra and Varun Dhaval in his film "Student of the Year" of Dharma Productions .If we talk about the music its really refreshing and melodious specially "Disco Deewane" ,Says Karan.
As we all know B-town"s hot filmmaker Karan Johar has gone ahead to prove that he is such all-rounder". He has tried it all – acting, directing, producing, screenwriting, hosting show, costume designing and now latest choreographing "There goes a saying that situation maketh man – And that"s exactly what made KJo to turn his energies towards choreography.
When asked about the secret to his versatility and who is behind it, Karan replied "I am behind myself." He professed a love for all forms of art, and said that he is equally fond of both bollywood and the small screen. His self- confidence, which he says he's always had helped him move ahead in the industry ,as he never hesitated to grab any opportunity that came his way.
Music-As heard about Karan's Choreography ,Karan says, during the shooting of a song of "Student of the Year" there were no choreographers available on the sets one day. So in order to save the day, i only stepped in to direct the song as well.
The song "Ratta Maar" had proved to be a challenge for KJo since it was a lip-sync track picturised on first-time actors.But then the filmmaker apparently had liked the whole concept and so went ahead to shoot the entire song.
Incidentally, "Student of the Year" has top choreographers on board namely Farah Khan, Vaibhavi Merchant, Bosco and Remo Fernandes who have done other songs in the film.
Music is really awesome and if we compare it to the old Disco Deewane which was released in 1981 ,so the similiarity is that both the punch lines "Disco Deewane "sang by NAzia Hasan. Vishal Shekhar has given music for this movie and they decided to take this punch line in Nazia's Voice ,her voice is too Melodious to be change with any other in Bollwood Industry.
As we said this debut film for three actors, Karan said, "The film is a big responsibility for Dharma productions. We are launching the career of three youngsters – Aliya, Varun, Sidharth. All of them are very promising and talented. So, we as a production house have to make sure that everything goes well.
"So how was it to direct them instead of someone like SRK. "This film feels very different from the films I have directed so far. I was more like a nervous parent to all three of them, nurturing them. So there was always a kind of inner stress. Making a film of that (huge) scale with these talents was something that I felt I needed to do and I am very satisfied."
Karan Says- The plot of the film revolves around three high school students and how their equation changes when they compete for the title 'Student of the Year'. As the storyline suggests, the film has many fun and amusing moments. The new song is a Disco track and is all set to release on August 28.
Seems like all the party goers and disco lovers are going to get a brand new song to groove on!!Will these students get passing grades to make it into the wild world of Bollywood? We wait to see what head prof Karan Johar does with them onscreen…
Suhani Vanjani