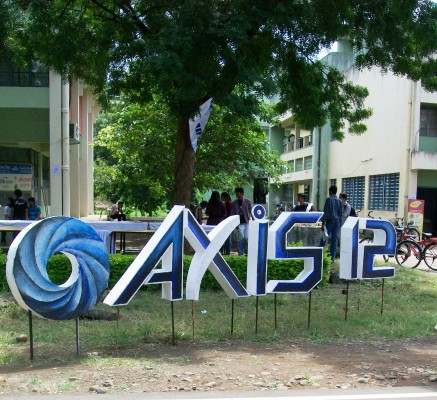 Nagpur College News : Axis, the annual techfest organized by the city's Visvesvaraya National Institute of Technology (VNIT), is witnessing tremendous competition on Day Two. The heat is definitely on, with more than 2,000 participants from across the country competing in twenty four different events.  The events will be held in as many as thirty different venues across the sprawling VNIT campus.
The sweltering heat doesn't seem to be an issue for anyone. Spectators and participants- engineering enthusiasts at their best- are thronging the venues on campus today, making it difficult to witness the events themselves. Events have been organized under four different categories specific to various departments of the college, and are as diverse as paper presentations, bridge construction and designing robots.
Some major events to look out for are Wall Street, Junior Scientist, Crepido, Minesweeper and Robowar.  Wall Street is an event based around stock exchange dealings, wherein the participants have to use their business acumen to make as much profit as possible. The software that this event works on was designed by a student of VNIT, back in 2008, and is used exclusively for Axis, despite many tempting purchase offers by leading companies.
Junior Scientist is for school children, and has around 1,500 participants this year. Crepido is an Architecture event where participants have to construct miniature bridges using ice- cream sticks. The bridges are weight- tested for stability, and last year's Crepido winner had built a little wooden bridge that could carry 290KGs. Minesweeper and Robowar both require robots designed by participants themselves. Minesweeper tests manual robots on their ability to pick up objects and navigate slopes and pits. Robowar just speaks for itself.
The fest was inaugurated on Friday evening by Mr. Nitin M Ambhaikar, Vice President (Oil and Energy), Reliance Industries Limited.  Saturday will witness the elimination rounds of most events, while the finals will be held on Sunday. Today's highlight was a demonstration of Earthquake Rescue, High Rise Building Rescue and River Crossing by the National Disaster Response Force (NDRF) on campus, which was inaugurated by Police Commissioner Ankush Dhanvijay. The NDRF, which is the response force under the National Disaster Management Authority (NDMA), will also be exhibiting its equipment at the VNIT campus till 5pm on Saturday and Sunday.