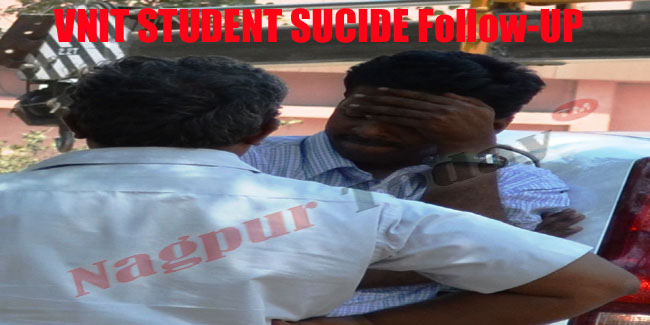 Nagpur News: A great deal of resentment, distress and anger prevailed among the students fraternity over the suicide of second year electronics and communication engineering student Sai Tej who hanged himself at his hostel room in VNIT college premises on Thursday morning. Kali Shetty, the mourning father of the deceased also arrived in Nagpur on Friday from Hyderabad along with his brother and other colleagues stepped towards his son's body with heavy heart and constant flow of tears in his eyes. Sources from college informed that Sai was harassed by his professor for his poor performance.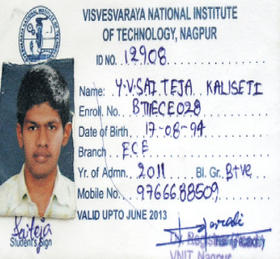 Sai's father who serves as an officer in Andhra Pradesh Transport Corporation has another son studying in class 10th in Hyderabad.
Sai's mother too burst into tears and the father was not in a condition to utter a single word. One of his relatives informed that Sai was very happy on his last visit to home and that it was beyond their belief that such a jolly student would commit suicide.
He claimed that the case should be deeply investigated and the abettors should be brought to book.
When Nagpur Today questioned Dr RK Ingle, Dean, Faculty Welfare at VNIT, he denied any harassment by the professor. Only thing might be that he could not do well and that probably could be the reason behind his depression that led him to take the drastic step, he commented. When asked about the high pressure the students sustain at the college, he said, "We have constituted a committee of one dean, professor and head of the department to look into the matter. His parents were here today. We would take appropriate measures once the report is out."
The other members of VNIT college management were not at all willing to speak anything. When insisted, one of the college workers informed that they have been issued strict instruction not to speak anything in this regard.
Police sources informed that a suicide note was found from the room. However, the college authorities claimed that no suicide note was found.
Police informed that Sai was depressed after he scored less marks in his second session exams. His roommate told police that Sai was depressed for the last ten days.
Meanwhile, the students reacted strongly to the incident as they poured their anger while commenting on Nagpur Today's story in this regard.
Click here to read previous story
http://nagpurtoday.in/vnit-student-hangs-selfstudents-claim-harassment-by-professor/
Antriksh Surpam ex student of VNIT, Nagpur, wrote, "Very sad that he had to take such an extreme step for a few marks! There is no doubt about rampant harassment in VNIT. It is present in some form or the other. The authorities always come up with new laws which affect some students especially the ones who have backlogs! The professors, particularly the Faculty advisers are very rude and have no knowledge of the new rules and are often themselves confused. I have personally gone through hell while I was in the college. One needs to be mentally very strong in order to survive in VNIT. This is my personal experience that the authorities and some professors make life difficult for students. I would say I had the worst times in my life while I was in VNIT but that made me strong too. "
Vijay Satappa Magdum of Visvesvaraya National Institute of Technology commented, "This is very sad to hear…Sai took extreme Step…May authorities should think over this."
Shruti Agrawal of Symbiosis International University wrote, "Really sad. May God give strength to his family. He's too young."
Allen Prasad, CEO & Founder at Minezoid, commented, "RIP, It's really sad. VNIT claimed another soul."
Sree Harsha Vardhana, VNIT, Nagpur commented, "Sad. Very sad."
Indrajeet Kundu of Manipal University, Dubai went overboard saying, "that place is just hell."
Krunal Tawade of JDCoE, expressed, "Another victim of harassment. Sad to hear it. But yes need to make students workout for handling pressure in colleges from authorities and surely authorities should also make clear that their behavior shouldn't be such brutal that it ends an innocent's life like this."
Suryakant Singh of Visvesvaraya National Institute of Technology commented, "Very sad news. People think that a student's life is just fun but nobody thinks about all the pressures that he/she has to endure. But my request to all the students and not just student any and everyone that if you are feeling low please seek help and don't ever think about taking such an extreme step.. Your life is just not your own, a lot of people around you count on you."