Family of a brain dead man saves lives of 3 persons, provides sight to 2 blind & relief to many burn victims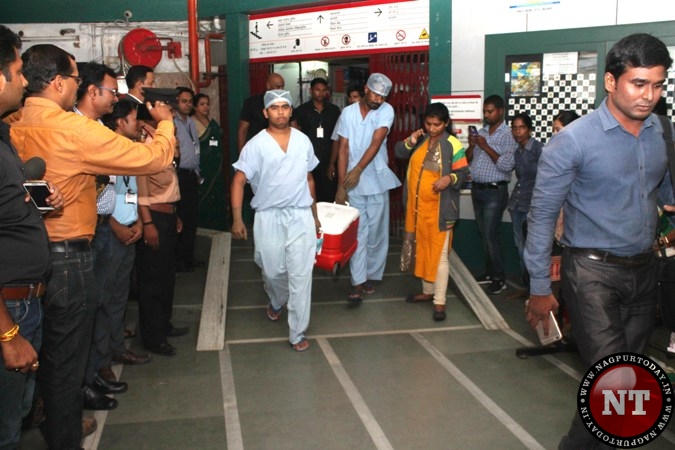 Nagpur: Vinayak Ramrao Deshkar, Age 67 yrs, resident of Plot No. 36, Madhuban Layout Narendra Nagar, Nagpur was admitted at Trinity Hospital, Nagpur on 16.06.2017 under care of Dr. Shailesh Pitale with history of Hypertension, Diabetes, Hypothyroidism, old CVE and with fresh massive intracranial bleed. Deshkar had gone to Panchmarhi with his family and had collapsed while taking bath on June 16, 2017. His sons and other family members rushed him to his treating doctor Dr. Shailesh Pitale. Opinion of Dr. Sanjiv Bias- Intensivist, Dr. Sangram Wagh – Neurophysician and Dr. Pramod Giri – Neuro Surgeon was also sought in Trinity Hospital.
Relatives were counseled by Dr. Shailesh Pitale about the critical condition of the patient, outcome, vegetative status and its consequences. On 22.06.2017; the patient had sudden hypotension and no spontaneous respiration. Relatives were again counseled about absent brain stem activity. After knowing the brain stem death status; his wife, Gayatri and sons Abhishek & Anurag proactively came forward and wished to donate kidneys, eyes and other organs to the needy so that it could be beneficial to many others.
Accordingly Dr. Shailesh Pitale discussed with his batch mate Dr. Anup Marar who is Director of government recognized renal transplant & organ retrieval unit namely Orange City Hospital & Research Institute and accordingly Dr. Ravi Wankhede, Secretary- ZTCC ( Nagpur) and Dr. Shivnarayan Acharya, Transplant Advisor- OCHRI visited Trinity Hospital for reviewing the status, proposed organ donation and after needful legal formalities; the patient was shifted to Orange City Hospital & Research Institute on 23.06.2017 at 11am for maintenance of potential organ donor pending retrieval. Manjiri Damle, Transplant Coordinator- OCHRI completed all necessary documentation formalities.
After performing all essential confirmatory tests as per standard protocol in different timings by the government recognized OCHRI brain stem death certification committee namely Dr. Devayani Buche, Dr. R.Atal and Dr. Vasant Dangra; Vinayak Ramrao Deshkar was certified as Brain Stem dead. Dr. Ninad Gawande assisted by Dr. Noorul Ameen completed medical legal records.

Dr. Ashish Shukla, Chest Physician & Section Coordinator-OCHRI CCU Complex and Dr. Ganesh Bure, Incharge Intensivist- OCHRI CCU led team of full time stationed Intensivists namely Dr. Rani Lakhe, Dr. Roshan Jawlekar, Dr. Santosh Gadge, Dr. Saurav Rathi, Dr.Vasundhara Jain and Dr.Neha Agarwal to ensure strict maintenance of potential donor supported by OCHRI paramedical staff led by Sr. Preeti Joseph.
On 24.06.2017; Organ retrieval surgery was started by around 9.30am. In the meantime OCHRI authorities led by Dr. Anup Marar sensitized police authorities about the need of green corridor from OCHRI to Airport. In between, Air Traffic Control, Mumbai called up to highlight the poor weather conditions in Mumbai so surgery had to be slowed down. After getting green signal from Air Traffic Control and pilot; surgery was completed. Dr. Sandeep Deshmukh, OCHRI Urologist retrieved the kidneys. Team of Global Hospital- Mumbai led by Dr. Ravi Mohanka, Liver Surgeon harvested the liver. Dr.Sameer Jahagirdar, OCHRI Plastic Surgeon retrieved the skin for Rotary OCHRI Skin bank. Dr. Smita Harkare, Dr. Anita Pande and Dr. Sweety Pasari provided anesthesia services while Sr.Ambika Nair led team of diligent nursing staff. As per the ZTCC waiting list one kidney was transported to Wockhardt Hospital and other to Care Hospital for needful transplants. Eyes will be retrieved by Mahatme Eye bank. Dr.Shivnarayan Acharya and Dr.Ravi Wankhede stated that in view of his age; the heart and lungs could not be unfortunately utilized.
As per NOTO, SOTO and ROTO directives conveyed by ZTCC (Nagpur); Liver was transported to Global Hospital, Mumbai by chartered flight while kidneys will be utilized for needy patients as per ZTCC waiting list by Care & Wockhardt Hospitals. Eyes will be used by Mahatme Eye bank while skin will be processed by Rotary –OCHRI Skin bank and used for burn patients. Dr. Ravi Mohanka and team had come in a chartered flight to harvest the liver at OCHRI.


Jayesh Murlidhar Bhandarkar, ACP- Traffic and Sudhir Nandanwar, PI Incharge Bajaj Nagar Police Station under supervision of Ravindrasingh Pardesi, DCP- Traffic guided by their superiors led a team of around 100 policemen to ensure smooth transport of harvested organs and earnestly provided all necessary help for opening up the green corridor for 1st time in Nagpur city. Manjiri Damle, Sunil Sure, Priya Sashi and Ganesh Iyer provided administrative support.
Citizens applauded the noble act of Deshkar family in saving lives of 3 needy persons, providing sight to 2 blind persons and providing relief to many burn victims by this altruistic act. The coordinated efforts of Trinity Hospital, Orange City Hospital & Research Institute, ZTCC (Mumbai & Nagpur), NOTO and Nagpur city police to respect the wishes of Deshkar family was commendable and proved that Nagpur stands united for any such noble undertakings.