"Fame of Gujjus" introduced in Nagpur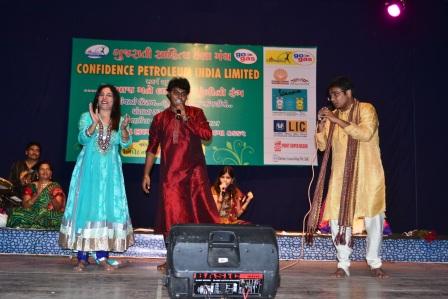 Nagpur News: "Guajrati Sahitya Kalamanch and Confidence Group" showcased the talent and culture of the Gujarati community in the city on October 7, 2012, at Sai Sabhagruh, Shankar Nagar. Mona Desai, an event manager who had done many events for charity and for some Bollywood music directors, put forward an event of the Gujarati community. It was the first Gujarati event of its kind in Nagpur. The event was exclusively for Gujaratis of Nagpur. It was approximately a full house show. Mona Desai tried to bring attention towards her community by anchoring the show and getting renowned singers from Mumbai. Divine Harmony group was there to perform and entertain the crowd; Sushma Thakar is one of the lead singers in the group.
The show was sponsored by Vespa, Go Gas, VRaj Group, Magnum, LIC, Destiny Counselling Pvt. Ltd., Punit Super Bazar. Fresh khakharas were available to munch during the program and to take away home.
-Ankita Agrawal