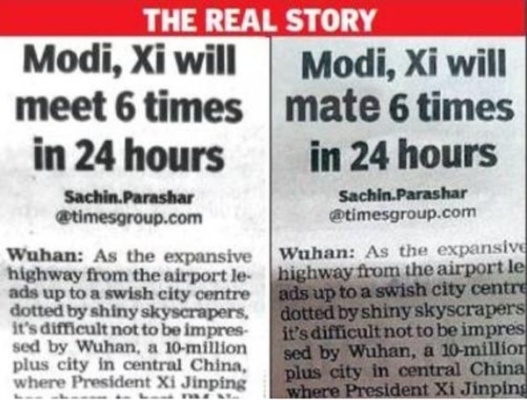 New Delhi: The Times Group on Friday filed a police complaint against unidentified persons who mischievously photoshopped a headline that appeared on TOI's front page on April 27.
The complaint says that those who photoshopped the headline and circulated it on social media have committed various offences under the IT Act, Copyright Act, Trademark Act as well as other penal laws.
The headline, which originally read "Modi, Xi will meet 6 times in 24 hours" was distorted to read "Modi, Xi will mate 6 times in 24 hours". No such headline appeared in any TOI edition.
TOI immediately clarified on Twitter, "A photoshopped image of our headline on the Modi-Xi meet is doing the rounds. All our editions carry the correct headline. You can see the difference when the correct and fake headlines are placed together. The one on the right is the photoshopped image with the word 'mate' tilted."
TOI is coordinating with police in the investigation, which has zeroed in on a set of suspects.