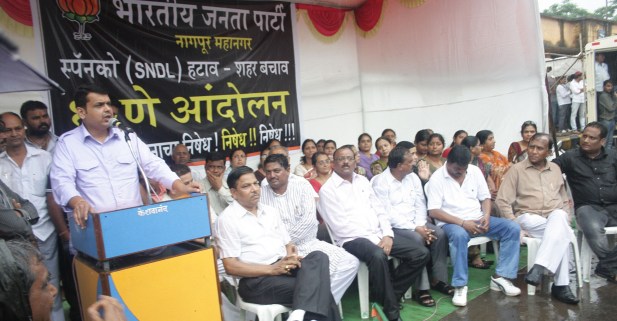 Nagpur News:
The President of Maharashtra unit of Bharatiya Janata Party (BJP) Devendra Fadnavis warned the State Government to either rein in the monstrous activities of SNDL or face the consequences in the upcoming session of Assembly. "There were massive corrupt deals during the negotiations for an agreement in order provide franchise to Spanco for supplying power to Nagpur citizens.  Even the Energy Ministry "honoured" the Spanco by giving its infrastructure free for 15 years," claimed Fadnavis.
The City BJP organized a "dharna" protest at the Spanco office at Old Shukrawari, Tulsibagh in Mahal with "Spanco Hatao, Nagpur Bachao" (Throw out Spanco, Save Nagpur) slogans rending the air. Apart from Devendra Fadnavis, City BJP President and MLA Krishna Khopde, MLA Vikas Kumbhare, MLA Sudhakar Deshmukh, Mayor Anil Sole, NMC Standing Committee Chairman Avinash Thakre, BJP General Secretaries Sudhkar Kohale and Chhotu Bhoyar, Sandeep Joshi, Pravin Datke, Archana Dehankar, Mayatai Ivanate, Devendra Dasture, Dr Kritida Ajmera, Manohar Ahuja, Guddu Trivedi, Kishore Wankhede, Chandan Goswami, and others were present at "Dharna" protest.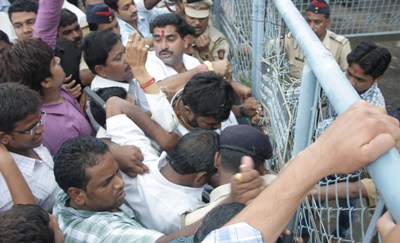 All the BJP leaders while addressing the large number of party workers and Spanco-hit consumers said, "The Maharashtra Government should immediately kick-out the barbarian Spanco (SNDL) and replace it with MSEDCL which was previously providing electricity almost without any sort of complaints. The dictator Spanco regime is harassing the consumers with amounts Rs 6000 power bills in place of Rs 600. Moreover, thousands of consumers who earn a meager salaries of Rs 3000-4000 have been receiving bills of Rs 8000. The complainants are told to first pay the bills then their complaints would be sorted out. It is nothing but a cruel joke on the part of Spanco officials played with the consumers who earn very poor salaries. And the insensitive Spanco authorities, once the consumers pay the inflated bills, turn a blind eye and start talking a different language leaving the consumers in the lurch.
"Most of the complaints of consumers concern to forcible change of old meters and replace them with faulty ones which run like a racing horse with additional 40 per cent bills compared to previous meters. The Spanco  employees turn up at complainants' house specifically at noon hours when male members are out and then resort to insulting women members of the complainants," the BJP leaders asserted.
Interestingly, party MLA Krishna Khopde posed a pointed question: "Were the power meters installed by the MSEDCL faulty? If yes, then the MSEDCL should return the amounts to the consumers. And if not, then why the torturing Spanco forcibly changing the meters?"