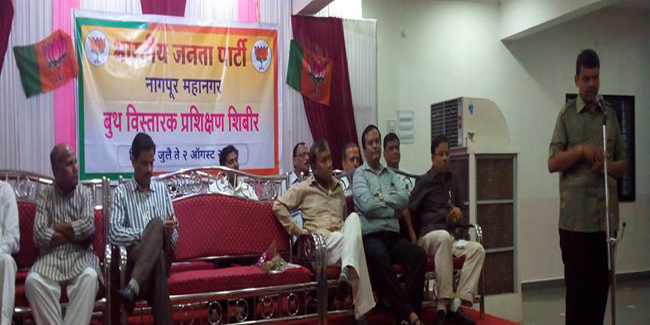 Nagpur News: Devendra Fadnavis, the President of Maharashtra unit of Bharatiya Janata Party, in an elaboration, compared the job of Chief of the Poll Booths to Samudra Manthan  (Churning of the Ocean). The churning for nation's interest and public interest. And this churning will not be fruitful unless massive public relations and communication with the society at large. No mission is impossible with upasak sadhana and a firm determination to do it. And for ensuring BJP's victory, priority is most systematically handle the 80000-strong polling booths, Fadnavis asserted.
Fadnavis was speaking at a camp the party organized for enhancement of polling booths and their handing by a professional way to derive maximum benefits for the party in the coming Lok Sabha elections. At the out set, BJP's State Unit General Secretary Dr Ranjit Patil addressed the camp. Vote of thanks was proposed by the City BJP President Krishna Khopde. The other prominent party leaders seated on dais included apart from Devendra Fadnavis, Dr Ranjit Patil, Krishna Khopde, MLA Vikas Kumbhare, State Unit Spokesman Girish Vyas, Senior Party leader Sanjay Bhende, City General Secretary Rajesh Bagdi, Prabhakar Yevale, Sudhakar Kohale, Sandeep Joshi, Pramod Pendke, East Vidarbha Organizing Secretary Dr Upendra Kothekar, Party General Secretary Shrikant Deshpande and others.
The BJP's senior leader Sudhakar Kohle gave a comprehensive training through "Power Presentation" on how to make preparations for Nagpur's 2008 polling booths from July 25 to August 2 which was prepared by party's IT Cell's Abhinandan Palsapure. Sudhakar Kohle was made city's Polling Booths Chief.  Similarly, City Unit General Secretary Rajesh Bagdi, Prabhakar Yevale, Sandeep Joshi, Pramod Pendke, Dr Chhotu Bhoyar, Girish Deshmukh were made Chiefs of all zones in Nagpur for coordination and co-operation with Sudhakar Kohle.
Those present at the camp included Kailash Chute, Guddu Trivedi, Vikky Kukreja, Kishore Wankhede, Narendra Borkar, Corporators Bandu Raut, Ramesh Shingare,  Babli Meshram, Ashok Dikondwar, Rupa Rai, Devendra Dasture, Amol Thakre, Raju Gadge, PRO Chandan Goswami, and others.