Export Promotion Through Transparent & User Friendly Services…….Jha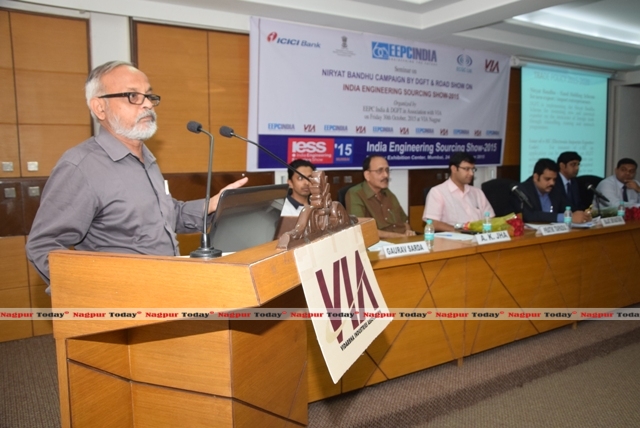 Nagpur: October 30. Export promotion through transparent & friendly services is the ultimate motive of the Directorate General of Foreign Trade [DGFT] said Jha in a programme on Niryat Bandhu Campaign held at VIA Hall this afternoon.
The programme titled "Niryat Bandhu Campaign by DGFT & Opportunities in India Engineering Sourcing Show-2015' organized by EEPC , DGFT and ECGC Ltd, in association with Exim Forum of Vidarbha Industries Association.
The programme received overwhelming response from industrialists, exporters, professionals and entrepreneurs.
A. K. Zha, Jt. DGFT, Nagpur explained and discussed on 'Niryat Bandhu Scheme' of the Ministry of Commerce and asked the members to take maximum advantages of all these schemes. He mentioned about Duty drawback , EPCG and newly introduced MEIS and SEIS schemes recently announced by the govt. He said that Niryat Bandhu scheme is an initiative of Government of India for mentoring first generation entrepreneurs in the field of international trade by reaching out to them through training programmes counselling sessions and facilitation.
A presentation on the role of DGFT by Gopalakrishnan, FTDO, followed. He said DGFT's role is to To Extend quick & transparent services to exporters under various schemes included in the Exim Policy, to assist exporters to reduce transaction time and costs and eliminate intermediaries. To strive to provide value added services to exporters through information, guidance and hand holding. To leverage information and communication technology, in-house expertise and coordination with other agencies to achieve the above objectives.
Rajat Srivastava, Regional Director, EEPC INDIA, Mumbai made a presentation on India Engineering Sourcing show -2015 scheduled to be held at Mumbai during 24-26th November, 2015. He said that the show is being organized by Ministry of Commerce & Industry, Government of India with EEPC as lead agency. The focus will be on Industrial Supply & Subcontracting, Metal & Shop Floor, Innovation and Technology, Industrial & Electrical Machinery, Investments & Engineering Project Exports, Automotive Components etc. He further reiterated that "this exhibition will give chance for MSME sector companies from Nagpur to interact with leading buyers from USA, Africa, Latin America, CIS SAARC, Middle-East and Asian Region, of Engineering Products". Since the exhibition is highly subsidized by Govt. of India. He further invited Companies from Vidarbha Region to participate in the exhibition in large numbers under the banner Vidarbha Industries Association.
Rajesh D Modak, Branch Manager, ECGC Limited, Nagpur Branch presentation on various services offered by ECGC for Exporters and requested the participants to avail services of ECGC and derive benefits.
Rajesh Saraf – Regional Head – East Maharashtra and Yogesh Deshpande – Regional Head-Sales – Trade, ICICI Bank made presentation on "End to End solutions in Trade & Finance (International as well as domestic)" and explained various services of ICICI Bank for the exporters.
Earlier, Shiraz Doongaji, Member Core Group VIA EXIM Forum offered floral welcome to all the speakers. Pratik Tapadia, EC Member VIA delivered the welcome address while Gaurav Sarda, Chairman – EXIM Forum conducted the proceedings and also proposed a vote of thanks.