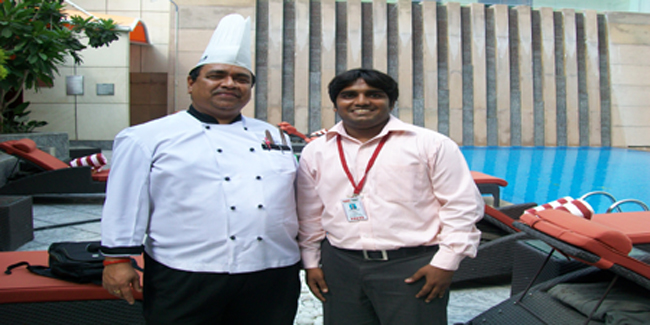 Executive chef Negi who has been wowing palates and educating diners on the flavors and intricacies of Orential and Indian cuisine got candid with Marcelo Azavedo on an interview on of course food and what he likes in person and about various types of cuisines and styles of cooking.
Surely the interview made my mouth water but it definitely made me aware about the level and standard that an Executive Sous chef maintains and as to how does he go about his work.
This is for all food lovers
Nagpur Today– How many employees report to you? How many of those are managers?
Mr Negi:  The people that report to me are 49 staff, 4 more managers out of which 2 sous chef are taking care of Indian cuisine and 2 Sous chef that take care of oriental cuisine and a junior sous chef who takes care of the kitchen and a senior CDP who takes care of the banquet. This summons up the people that work under me at the Raddison Blu Kitchen.
Nagpur Today:What is your favorite food  to eat?
Mr Negi: North Indian and Middle East Food.
Nagpur Today-What is your favorite cuisine to cook? Why?
Mr Negi: I love Indian food to cook as I m and Indian , but in the particular category I love north Indian cuisine like Tandoor and something that reflects the culture of Punjabis cause I am one. Food that also has a lot of spices, butter, Mutton and various other foods that has a tilt towards the north side.
Nagpur Today: Give me an example of a winter menu you would prepare for me or your customers?
Mr Negi: People who normally stay towards the north side tend to like food which complements the weather. During winter time there most cooked and loved food will be Tandoori,  Tikka or something that is spicy. This type of food with drinks gives the best taste of the entire cuisine that very well compliments the region and the food. 
Nagpur Today: Why did you choose to become a Chef
Mr Negi: Because I loved to eat food and loved to cook and serve people. One secret to share that I m not a trained chef or I haven't done any course, everything that I learnt was out of interest and for the love of food.
Nagpur Today: What do you do to stay educated about new trends?
Mr Negi: As a Chef we have to be updated with the currents as cooking food is a continuous process and we have to learn every day about what's new and not. We do this by trying something new every day, experimenting is a way a chef can learn and can keep himself update to the new trends .
Nagpur Today: What do you do to insure the quality of the food going out to customers?
Mr Negi: Quality is the main aspect of any restaurant. If our food brings a smile on the customers then our work is done. To ensure that this happens every item is closely checked and until I don't taste it the food won't be sent out cause in our line we are taught that if  you like it then send it otherwise don't send it . This philosophy we follow and that helps us in our way to satisfy customers.
Nagpur Today: Do you encourage creativity if some junior chef has tried out and has been successful in that?
Mr Negi:  Why not we do encourage it and I personally believe in this particular aspect. If something tastes good it taste good and should be appreciated.   
Nagpur Today: Give me an example of someone you have trained or mentored. Where did they
Start and where are they now?
Mr Negi: It's hard to remember but to name a few I would definitely tell you. Rajesh who started under me as a First Commis and today he is working at Ramada Mumbai as Executive Chef. There are more people that have worked under me and today have reached a place  in life and that gives me a lot of happiness . The reason behind this I can say is because I have learnt to share knowledge and that has helped me in many ways and this attitude has transformed into many people lives that have worked under me.
Nagpur Today: How do you insure/test the quality of your ingredients?
Mr Negi: When we make our recipe or menu we always follow brands. We never compromise with standard and follow only the brands that we have always worked with but as they always say the best blend of flavors can only be brought by basic type of cooking like grinding Masala on the stone like most of the olden times. This blend of flavors will always be better than the modern type of cooking. So it has to be a combination of both the olden type and the modern type that helps us in the quality of the ingredients that goes from our side. Here at Radisson we follow two types of cooking, if we have to cook for bulk then we use these olden type of grinding otherwise we follow the modern way of cooking.
Nagpur Today: Tell me about an accomplishment that you are most proud of in your career?
Mr Negi: I can say that I cook Arabic food like Shawarma (chicken), Arabic roast chicken and many more. the reason behind this is because I have lived there and worked there and learnt their style of cooking which makes me proud as a chef. As a chef you need to be versatile and that's what's I thrive to achieve.
Nagpur Today: Tell me 3 things that you consider to be your strengths?
Mr Negi: I share my knowledge, don't lie and I stick on my word.
Nagpur Today: Tell me something you would like to learn or improve upon?
Mr Negi: Everything, cooking is a learning process and we got to learnt till we don't die. As a chef I even think in my bathroom as to what should I try and what should I learn today. Today's times have taught me to stay ahead of people and that helps me a lot. I always want to learn new cuisines like Spanish, Italian and so on because a chef needs to be a complete chef or a versatile chef that's what I believe.
Nagpur Today: Sir you have been on cruises also tells me which is better Cruise Kitchen or Restaurant kitchen?
Mr Negi: There is a considerable difference like what quality of stuff you get there you don't get here. Styles of cooking are far different there as compared here as we normally cook on a large scale and here we cook to a particular section of people. Both the places have taught me a lot and I have learnt a lot form this 2 experiences.
Nagpur Today: Favorite Goan delicacy?
Mr Negi: Fish curry Rice.
Nagpur Today: Any advice to budding cooks who want to make it big in the industry?
Mr Negi: Work hard, be honest, be open to advice and learning and love food like yourself and cook to make people happy.