Ex-Mayor Kalpana Pandey's arrest by ACB causes tremors in BJP camp

Curtain likely to fall on her political career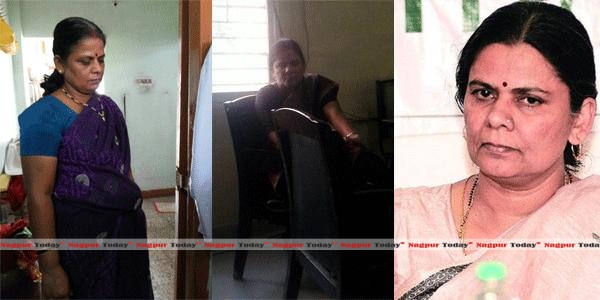 Nagpur: What can a single man do to cleanse the society which is infested with bacteria of corruption? Politics and corruption have become an indispensable set of 'paijama' and 'kurta' (or vide traditional adage: choli aur daaman). However tall claim Prime Minister Narendra Modi might make and accordingly keep instructing his BJP men and women, time and again, against corruption, the opportunistic politicians or those with their developed political taste cannot help escape their corrupt conscience.
This being the truth, even former Mayor of Nagpur city and a senior BJP leader, Kalpana Pandey, could not escape the malice, and she was ultimately trapped red-handed by ACB while accepting a bribe of Rs 50,000 on Wednesday. The incident must have dealt a big jolt to the government at the Centre and in the State, and of course, to the Nagpur Municipal Corporation which was once headed by her.
Sources said, Kalpana Pandey is a member of Shikshak Sangh of local Chunnilal Vidya Bhavan, Itwari, Nagpur and her sister Bharti Pandey is the head mistress of the same school. Both of them demanded a bribe of Rs 50,000 for signing the treasury papers of a retired teacher. The ACB recovered the said amount by way of raiding the houses of Kalpana at Hanuman Nagar and Bharti at Vishwakarma Nagar on Wednesday morning.
The ACB action against Kalpana Pandey has caused a tremors in BJP camp across the state, for Kalpana is not only an ex-city Mayor but also a reputed BJP leader in terms of her outspoken nature, eloquence, honesty-laden extrovert presentation and confidence-boosting personality of the city.
Kalpana Pandey is believed to be close BJP associate of Chief Minister Devendra Fadnavis. Her arrest in corruption charges deals a big blow to those who make tall claims of fighting against corruption across the country. Her arrest may bring a fall of curtain on her political career, for she is one of the major contestants for MLC post from teachers constituency in Maharashtra Legislative Council, and she has been very active in politics as well. But, Alas! her hopes are shattered and peace disturbed, now.