Bandu Mahal Sports Assosiation Celebrates Its 27th Year of Sarbajonik Shree Shree Durga Pujo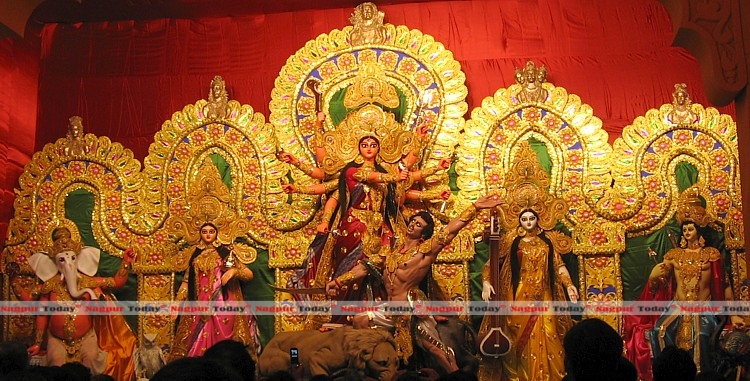 Nagpur: Ya devi sarvabhuteshu Vishnu-mayeti sadbita…Namas tasyai, Namas tasyai, Namas tasyai namo namah….Colourful 'pandals', cultural shows, diverse gastronomic delights and cuisines, all of them are set for festivities and gaiety in the city as Durga Puja begins on Sunday. 18Th October 2015 Bandhu Mahal Sports Association of, Rana Pratap nagar Nagpur is organizing its 27th year of Pujo celebrations. Like every year even this year the soshti pujo'' Bodhon will be done.
Saptami will have its own start with the morning arti and thakur pujo later followed by the shonde aroti on 20th october . Maha ashtami is dated on 21st October and will have the anjali in the morning followed by Aroti, bhog and cultural programs in the evening and the shondhi pujo will take place in the midnight after 12am on the same day.
There will be bhog, Pushpanjali, Mahaprasad, Aarti and cultural programs in the evening followed by orchestra and dramatics and the other proceedings of the Dashami will conclude with shindhur khaela. Dhunuchi Dance Competition will be a special attraction followed by the Maha Ashtami Pujo. 22Nd will be the maha dashami and bishorjon.
The core committee consists of Chief Person : N.K.Garg. Patons : S.S Sen, Rahib Choudhury ,  Pravin Tapadia, Sundip Surekha.Vice Presidents: Ajit Ghosh, P.K Basak. Secretary : Basudev Talukdar. Treasurer: Sumit Sinha. The pujo proshad and bhog is very much looked by Asim Mukherjee, Subrata Chatterjee, Piyush Bhowmik, A.K Nandi, Biswanath Debnath,  Anup Bhowmik.  And the souvenir is looked by Sumit Sinha and Swapan. K. Ghoshal. Cultural is looked by  Anup Banerjee, Subhash Dutta, Piyush Bhowmik. Decoration and Pandal : Utpal Choudhury,  Debabrata Chanda. Imeersion :  Subhash Roy and  Abaneesh Dutta. Members : Sarvashree S Samanta, Chanchal Mukherjee, Kalyan Roychoudhury, Tapan Bid, Gagan Roy, Partho Saha and Raja Chakravorty and their families. For any further information regarding any events or Pujo timings, You may contact, 9049379444 Anup Banerjee.