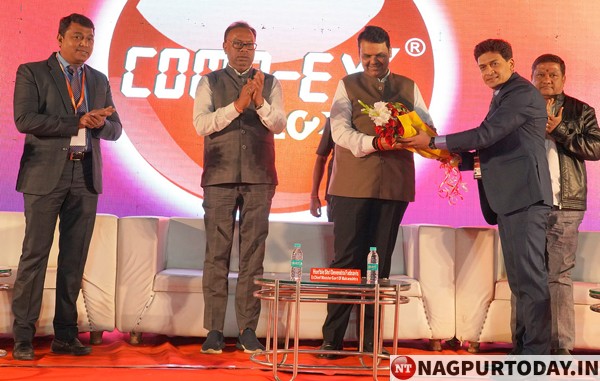 Comp-Ex' 2020 has its overwhelming moment today when the most cherished dignitary Shri Devendra Fadnavis, Ex Chief Minister and Leader of the Opposition, Maharashtra State visited Comp-Ex' 2020. The expo was to be inaugurated at the hands of Shri Devendra Fadnavis yesterday. However, due to some unavoidable priorities he was unable to travel to Nagpur. He more than compensated by making it to Comp-Ex' 2020 as the Guest of Honour today. Accompanying Shri Devendra Fadnavis were Shri Chandrashekhar Bawankule, former Energy Minister and Shri Mohan Mate, MLA, South Nagpur.
Shri Devendra Fadnavis and other dignitaries was formally welcomed by VCMDWA office bearers viz. Mr. Vinay Dharmadhikari, President, Mr. Dinesh Naidu, Vice President, Mr. Lalit Gandhi, Secretary, Mr. Jayant Patel, Treasurer, Mr. Ranjit Umathe, Joint Secretary, Executive Members Sanjay Chaurasia, Rohit Jaiswal and Shahzad Akhtar.
Mr. Vinay Dharmadhikari extended a warm welcomed to Shri Devendra Fadnavis, Shri Chandrashekhar Bawankule and Shri Mohan Mate by presenting them with floral bouquets on behalf of the VCMDWA. Shri Dinesh Naidu, Vice President, VCMDWA presented the Comp-Ex' 2020 gratitude memento to Shri Devendra Fadnavis.
In his address Mr. Fadnavis complemented the sustained and successful staging of Comp-Ex' for 28 long years by VCMDWA dedicatedly and uninterruptedly. He had a special mention for Comp-Ex' towards taking across the latest in this technology-era to the end users, especially the tech-enabled industries in Vidarbha. A firm and clear believer of Technology in Governance, Shri Fadnavis has to his credit, during his tenure as the Chief Minister, introduction of many IT based applications, solutions and programs in the government machinery functioning thereby enhancing the usage of technology to a great extent in governance, communication and faster performance across the board.
Although the venue for Comp-Ex' 2020 being Reshimbagh Ground for the first time, curious and keen visitor footfall is indeed overwhelming. Weekend crowd expected on Saturday and Sunday will swell much more.
Products and offers galore, visitors should watch out for The Absolute Soft System which is a techno innovation company that provides security & antitheft applications to smartphone users. Security & anti-theft feature enabled software costs just Rs.1999/- per year. As social responsibility all the above features is on offer at just 199/- and is valid for the first 500 walk-in users till 30th January 2020.
Gizmore is a Smart Accessories and Audio brand in India, known for its fashionable product styling. Gizmore range of Home Audio & Outdoor Party speakers launched recently has been received very well by trade and consumers alike. The brand has recently come up with a new tagline 'New Age Sound' which further is a testimony to its focus on the category and a lot of backend work happening in this space for launching more futuristic products.
Gaming Contest is the major attraction for the mobile and internet savvy youngsters as they can participate, play, enjoy and win exciting prizes. There are prizes of more than 1.00 Lakhs to be won by winners at the Gaming Contests. Visitors can get lucky too as the Entry Ticket that they purchase would have a lottery winner for a surprise gift.
Comp-Ex' 2020 will have yet another distinguished guest in Dr. Brijesh Dixit, Chairman & Managing Director, Maharashtra Metro Rail Corporation who would be present and will address the visitors today at 6.00 pm. Needless to say, visitors at Comp-Ex' would get to know the latest update on the progress scenario of Metro Rail Project "Majhi Metro' of Nagpur.
Maharashtra Metro Rail Corporation is the lead sponsor of the event and are partnering Comp-Ex' for the past few years with their invaluable support. Similarly, The Hitavada as the Media partner, Click IT as the IT Media Partner and D-Link as the Networking Partner have been extending their invaluable support to Comp-Ex' since many past editions.