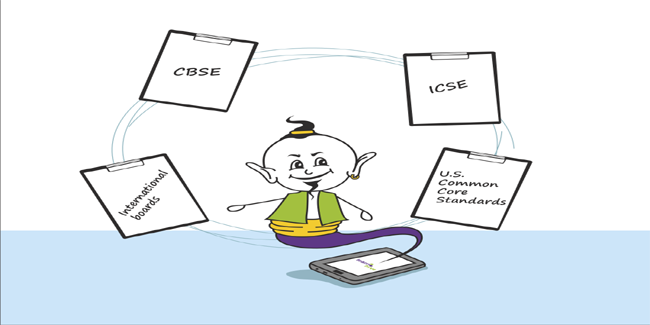 Education in India is very highly dependent on the syllabus offered and most parents choose schools based on the syllabus it offers rather than on the kind of education imparted by the school.
Schools in India offer both Indian and International syllabi some of which are:
National – CBSE – Central Board of Secondary Education.
ICSE– Indian Certificate of Secondary Education
State Board– Approximately 30 State Boards.
International –Cambridge UniversityPrograms.
IBO Programs and a few others such as – Ontario from Canada, EDEXCEL- From UK.
Why and how CBSE ?
Started by the NCERT (National Council of Educational Research and Training) with the aim to operate a chain of central schools (Kendriya Vidyalaya) that could cater to government employees who are in transferable jobs that involve mid year movements.
A number of private schools have started to offer CBSE since a number of private sector employees are also moving place to place
The CBSE Syllabus is very structured, highly predictable and, highly controlled
All national entrance examinations are conducted as per this syllabus.
A number of changes have been incorporated lately, the prominent decision being to make board examination at the end of Grade -10 optional
Board exams conducted:

 Grade-10 (Optional )
 Grade-12 (Mandatory)
ICSE – Indian School Certificate Examinations
An offshoot of the Cambridge IGCSE that existed during the British regime was taken over by the Anglo Indian Board and is now governed by the  'Council for the Indian School Certificate Examinations'.
Has taken in a lot of structures from the NCERT
At Grade-10 as of now is the toughest board examination
Almost similar to CBSE in terms of controls, difference being this is quasi Government.
Board Exams conducted:

ICSE – Grade-10
ISC- Grade-12
State Boards
Each state has its own variance from the NCERT syllabus and adds up its local flavor. State government predominantly dictates languages taught and medium of instruction.
Relatively easy syllabus for board exams.
Age is another factor that varies from state to state.
As per the new government directive, many state boards have adopted the NCERT syllabus for Math and Science in Grades 11 and 12. This move is aimed at a common entrance examination for Engineering and Medical colleges which is expected soon.
Board Exams Conducted:

Grade-10.
Grade-12 (Also called P U- Pre University).
Some states also conduct a Board Exam in Grade-8.
Alternate education
National Open School- Highly suited for students who have Learning difficulties or who are involved in other activities such as Sports at National / International level. Accepted as equal to other streams.
International Education–
IBO– Three levels PYP (Primary Years Program -Up to Grade-5), MYP (Middle Years Program – Grade 6 to 10), IB Diploma (Grade 11 and 12). IBO conducts an External Exam only for Diploma; School assesses other programs. Currently there is a plan for introduction of External exam at Grade-10 level (Completion of MYP).
Cambridge Program– Currently focused on IGCSE at 9 &10 and A Level at 12 Grade (Also commencing Cambridge Diploma Program at Grade-12).
 Biggest advantage of International curriculum is freedom offered in delivery of curriculum.
This provides opportunity to school to try innovative approach to help children understand concepts than just follow textbook teaching.
Assessments can be differentiated and thus learning can be made fun.
While International syllabi are compatible with higher education in India, the biggest limitation of International Education in India is that, as of today it is offered only in the high-end expensive schools. 
Boards of Secondary & Senior Secondary Education in India
State
Board
Year of Establishment
Administrative Set-up
Andhra Pradesh
(i) Andhra Pradesh Board of Secondary  Education, Hyderabad – 500 001
1953
Part of the State Department of Education
(ii) Andhra Pradesh Board of Intermediate Hyderabad – 500 001
http://www.interboardap.nic.in/
1971
Statutory
Assam
(i) Assam Board of Secondary Education, Guwahati – 781 021
1962
Statutory
(ii) Assam Higher Secondary Education Council, Guwahati – 781 021
1984
Statutory
Bihar
(i) Bihar School Examination Board
Patna 800 017
1952
Statutory
(ii) Bihar Intermediate Education Council,
Patna 800 001.
1980
Statutory
Goa
Goa Board of Secondary & Higher Secondary Education
Goa- 403 521
1975
Statutory
Gujarat
Gujarat Secondary Education Board,
Sector 10-B, Gandhi Nagar – 382 043
1960
Statutory
Haryana
Haryana Board of Education,
Hansi Road, Bhiwani – 125021
Tel.  91-1664-44171
Fax: 91-1664-41611
1969
Statutory
Himachal Pradesh
Himachal Pradesh Board of School Education, Dharamsala-176216. Distt. Kangra.
1969
Statutory
Jammu & Kashmir
J&K State Board of School Education, Rehari Colony, Jammu- 180 005 (Nov.– April)
Lalmandi, Srinagar 190 005 (May–Oct.)
1965
Statutory
Karnataka
(i) Karnataka Secondary Education Examination Bangalore 560 003
1966
Part of the State Deptt. of Education
(ii) Karnataka Board of the Pre-University Education
Bangalore-560 001
1970
Part of the State Deptt. of Pre-University Education
Kerala
Kerala Board of Public Examinations, Thiruvananthapuram – 695 012
1949
Part of the State Deptt. of Education
Maharashtra
Maharashtra State Board of Secondary and Higher Secondary Education, Shivajinagar, Pune 411 010.
Home Page : http://www.mah.nic.in/msec
1966
Statutory
Madhya Pradesh
Madhya Pradesh Board of Secondary Education, Bhopal -462 011
1959
Statutory
Manipur
(i) Manipur Board of Secondary Education,
Imphal – 795 001
1972
Statutory
(ii) Manipur Council of Higher Secondary Education, Imphal – 795 001
1992
Statutory
Meghalaya
Meghalaya Board of School Education, Meghalaya-794 102
1973
Statutory
Mizoram
Mizoram Board of School Education
Aizawl-796 012
1976
Statutory
Nagaland
Nagaland Board of School Education, Post Box, 98, Kohima -767 001
1974
Statutory
Orissa
(i) Orissa Board of Secondary Education, Bajrakabati Road, Cuttack -753 001
1965
Statutory
(ii) Orissa Council of Higher Secondary Education, Bhubaneswar – 75
1955
Statutory
Punjab
Punjab School Education Board,
Mohali -160 059
1969
Statutory
Rajasthan
Rajasthan Board of Secondary Education,
Ajmer- 305 001
1957
Statutory
Tamil Nadu
(i) Tamil Nadu Board of Secondary Education, Department of Govt. Examinations
Chennai- 600 006
1908
Part of the State Deptt. of Education
(ii) Tamil Nadu Board of Higher Secondary Education, College Road,
Chennai-600 006.
1982
Part of the State Deptt. of Education
Tripura
Tripura Board of Secondary Education
Agartala, Tripura West -799 006.
1973
Statutory
U.P.
U.P. Board of High School & Intermediate Education, Allahabad – 211 001
1922
Autonomous Body under the Deptt. of Education
West Bengal
(i) West Bengal Board of Secondary Education, 77/2, Park Street,  Calcutta -700 016
1951 (Reconstituted in 1964)
Statutory
(ii) West Bengal Council of Higher Secondary Education
Calcutta- 700 091
1929 (Reconstituted in 1962
Statutory
All-India Boards
(i) Central Board of Secondary Education 2, Community Centre, Shiksha Kendra, Preet Vihar, Delhi- 110 092
Tel.# 91-11-2249602, 2249628
Fax:  91-11-2215826
Home page:  http://www.cbse.nic.in
Autonomous body under the Government of India
(ii) Council for Indian School Certificate Examinations, Pragati House, 47/48, Nehru Place,
New Delhi – 110 019.
Home Page : http://www.cisce.org
1958
Registered Society
(iii) National Open School
A-38, Kailash Colony, New Delhi-110 048
Tel.#91-11-6481455,57-59
Fax:#91-11-6211453
Home Page : www.nos.org
1989
Autonomous body under the Government of India