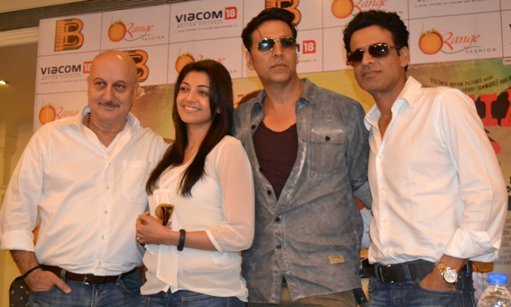 Nagpur News.
It was the promotion of their upcoming film 'Special 26' which got Akshay kumar, Anupam Kher, Kajal Agrawal and Manoj Bajpai to the City of Oranges Nagpur. Akshay get a whiff of the craziness that city lads have within them as he waved to the curious fans outside Hotel Tuli Imperial where he addressed the press conference along with other cast of the film.
Akshay, considered as one of the stars belonging to 100 crore movie club was not much excited as he turned down any such phenomena saying that every movie that earns Rs 100 crore cannot be called successfully both commercially and content wise.
He explained that the success of any film could not be measured in terms of the crores of rupees it made, but the business volume depends on the budget of the movie and the business done as compared to the budget.
He affirmed that good movies always perform better at box office.
Speaking about the film Khiladi aka Akshay Kumar said that this would be one of his best films, adding that working with Anupam Kher and Manoj Bajpai is a pleasure.
Anupam Kher who is playing a key role in Special 26 also accompanied the cast. When asked on his comments over the recent controversy surrounding the release of Kamal Haasan's movie Vishwaroopam, he expressed that once the Censor Board clears the movie then no community has any right to banish its release. And if any such objection arises then it is the responsibility of state and central governments to assure secured running of such movies.
Kajal Agrawal expressed her excitement to work with senior artists and also on her debut visit to Nagpur complimented the city to be so green and lush.
Special 26 is directed by Neeraj Pandey of A Wednesday fame in which Akshay Kumar and Kajal Aggarwal are in the lead roles with Jimmy Shergill, Manoj Bajpai and Anupam Kher in supporting roles. The film is based on a real life group of con artists who pulled off many clever robberies during 1980's,. Neeraj waited for almost three years after A Wednesday, as he wanted Akshay Kumar for the film. The film hits screens on 8th Feb 2013.