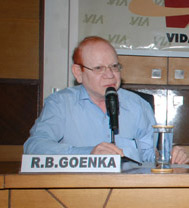 Nagpur News: The entrepreneurs and consumers in Vidarbha have become aggressive after Maharashtra State Electricity Distribution Company Limited (MSEDCL) filed a petition before Maharashtra Electricity Regulatory Commission to recover outstanding dues of government offices and ministers' companies to the tune of ` 4,986 crore from domestic consumers, entrepreneurs and farmers.
A stir will be launched on June 7 in Nagpur against this petition.
President of Energy Cell of  VIA R B Goenka in a press conference on Tuesday said that MSEDCL is recovering fuel surcharge of ` 980 crore from consumers. Now the burden of crores of rupees which are outstanding will come on power consumers.
There was a public hearing in Mumbai on May 27 on arrears of dues payable by defaulting companies. Apart from this, MSEDCL had presented a business plan based on capacity for next three years before Maharashtra Electricity Regulatory Commission on November 30, 2012. The public hearing on this plan was held in Mumbai on May 10. The forum has demanded that such hearings should be held all over state. According to business plan, the power consumers will have to face steep hike in power tariff in not so distant future.
The power tariff in Maharashtra is the highest in country due to which consumers are being penalised. To curb this, the consumer organisations will approach Competition Commission of India against MSEDCL. The consumer organisations will also demand parallel licence system to end MSEDCL monopoly.
The organisations will also launch stir against MSEDCL proposal and regular hikes in power tariff.
According to a plan submitted to MERC, domestic consumers will have to pay ` 1.01 per unit upto 100 units, 52 paise per unit from 101 to 300 units, 68 paise per unit for 301 to 500 units, 76 paise per unit for 500 to 1000 units. The farmers and entrepreneurs will also be affected. Heavy industries will have to shell out 33 paise to ` 1.01 per unit, medium industries 88 paise to ` 1.47 per unit and farmers will be charged 25 paise per unit extra.
Kiran Paturkar said power tariff is being raised for the last eight years. Wrong style of functioning of earlier Maharashtra State Electricity Board and now MSEDCL is responsible for this mess. During the public hearing held at Mumbai, chief of MSEDCL Ajoy Mehta behaved in a wrong way with trade organisations, he alleged. He said that demand of Mehta's resignation will be put forward in New Delhi.
Paturkar said if this all mess is not enough, there is chaos in billing for farmers' electricity connections. They are being charged three times more than the actual use of electricity. He also demanded audit of agriculture pumps.
All India Consumer Welfare Organisation will be holding a two-hour stir in front of MSEDCL's office in Gaddigudam to raise the demand of resignation of Ajoy Mehta and rollback of power tariff hike, said general secretary of Akhil Bhartiya Kalyan Parishad, Devendra Tiwari.
President of Butibori Industries Association Hemant Ambaselkar and president of MIAIndustries Association Mayank Shukla said due to steep power tariff hike, the industries are shifting to other states. Many have started factories at Saunsar.
Secretary of Butibori Manufacturing Association Nitin Lonkar, Nitin Gujjalwar, former president Pradeep Khandelwal, former president DNGupta, joint secretary Shegaonkar, member Prafulla Doshi, secretary Aakash Agrawal, president of Kalmeshwar Industries Association Vyankatesh Bhatgare, consumer representatives of MERCAvinash Prabhune, Suhas Khandekar, Sharadchandra Banait, president of consumer welfare organisation Kishorsingh Bais, Mahadeo Nakhate of Kisan Union, Sanjay Dharmadhikari of Akhil Bharatiya Grahak Panchayat, Ravi Kaskhedikar of Janskrosh, and Anil Bhandarkar were present also present.