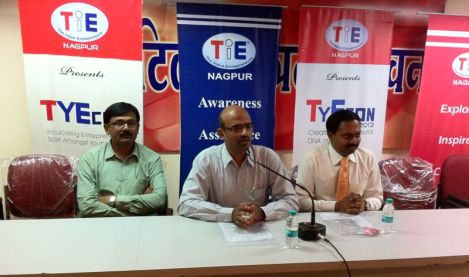 There are many qualities which are inherent in kids and which are must have in entrepreneurs ,qualities like innovation, risk taking, perseverance and energy but over the years they are lost .And as time passes and when the child actually becomes an entrepreneur, these qualities are then had to be redeveloped by the entrepreneur.
keeping this in mind TiE Nagpur is hosting first conference dedicated to inculcate entrepreneurial spirit among young high school students, TyEcon on 5th May 2013 at Naivaidyam  celebration hall, north Ambajari road from 10am to 5.30 pm informed Mangesh  Joshi, Convener of TyECon.
TiE Nagpur chapter is a part of TiE(The Indus Entrepreneurs) which is world's largest organization fostering entrepreneurship globally.  Mangesh  joshi further said it will be one day conference specially children from 12 years old to 16 years old.  The conference will have Nagpur's  successful entrepreneurs guiding and motivating the young students to build entrepreneurial spirit.
Mangesh Joshi ,R Ramakrishnan, secretary Tie and Sachin Iyer , executive director of Tie have requested parents to come forward and encourage and support their kids to attend this conference and avail maximum benefit out of it .
The Registration charge is Rs 850 per candidate.
For registrations call : 0712-6464066/9623382239 or visit www.tye-nagpur.org.