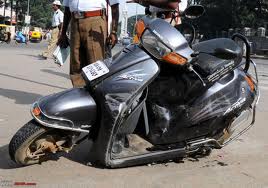 Nagpur News:
A third year engineering girl student of K D K College was knocked dead by an alleged drunk truck driver near Ishwar Nagar petrol pump on Monday evening. In last 22 days, 11 people died while more than six were injured due to rash driving truck.
Shivagi Bhende, a resident of New Nandanwan, was learnt to be a bright student. The accident took place just nearly 1.5 kms away from her residence.
Around 6.30 pm, Shivangi left home to fill petrol in her scooter (Activa Honda MH-31 EB 3862) from nearby petrol pump. Police said that she had almost reached to the petrol pump when the speeding truck, coming from behind, knocked her scooter.
"Shivani fell on the right side and the truck driver failed to apply the brakes immediately. The wheels ran over her head, causing her death on the spot," said PSI Pradeep Atulkar from Nandanwan police station. He informed that Shivani was driving without helmet.
Fearing public anger, the accused driver had fled the spot, leaving behind his truck (MH-31 AP 6896). Later, through the truck documents, police arrested the driver Usman Khan (43), a resident of Hasanbagh.