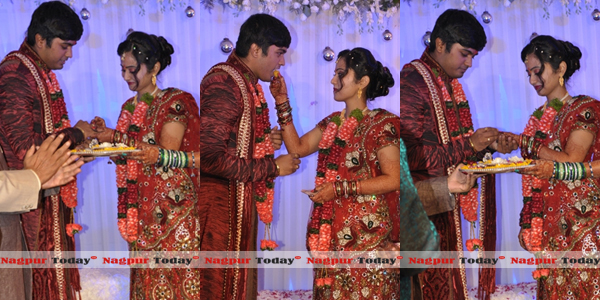 Indian rituals and celebrations are known to elaborate and highlight every single ethnic and graceful moments of the do. The news of a wedding brings happy tidings to the family, and so did this one for the Gadge and Naik Families. Being the first step towards commencement of rituals of this new bond, the Engagement Ceremony of Amit Gadge and Pankhuri Naik was witnessed by who's who of the city.
As the guests arrived, they were welcomed with 'sprinkles of rose water' and 'Ittar', proceeding towards the unique 'Night Sky' theme in the decorations and arrangements. The most awaited moment got over as and when Pankhuri arrived tearing the air amongst groups of people and grabbing every eyeball in her beautiful red attire.
A live musical was arranged for the night that mesmerized every one with ethnic old Bollywood tracks. Family members as well came forward and dedicated memorable singing numbers to the young couple.
PICS BY : Sahil