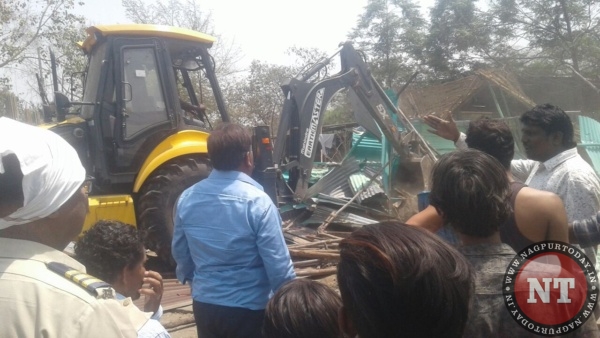 Nagpur: The Enforcement Department of Nagpur Municipal Corporation (NMC) on Saturday bulldozed unauthorised constructions on government land near Kamal Chowk. Encroachments spread over 24,000 sq mtr land of Employees State Insurance Corporation (ESIC), Public Health Department were demolished by the NMC squad.
The bulldozed encroachments include A K regulation, juice centre, hotels, tea and snack stalls etc. Some houses of 10X15 foot measurements constructed illegally by Chhotu Shahu, Vicky, Vilas Shrivas, Vijaya Maraskolhe, Ramkrishna Prasad and others were also demolished. A 20 by 40 cattle stable built by Pappi Yadav was smashed and fine of Rs 25,000 was recovered. Similarly, the additional construction in a 5-storey building built by Arunkumar Panjabrao Malwar was also bulldozed and gang expenditure of Rs 25,000 was recovered.
The drive was undertaken under police bandobast to prevent untoward incident. The NMC officials who participated in the anti-encroachment drive include Assistant Commissioner Ashok Patil, Enforcement Superintendent Yadav Jambhulkar, Enforcement Inspector Sanjay Kamble, Manzoor Shah, Jamshed Ali, Sanjay Shingne, Vijay Irkhede and others.