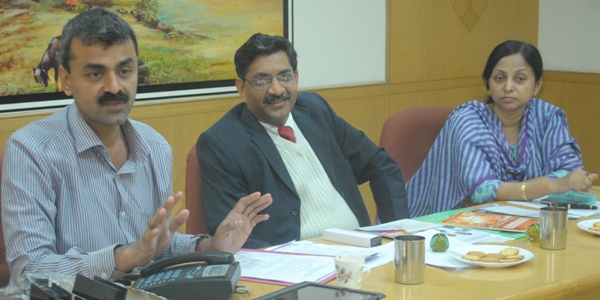 Nagpur News:.
Shri Ramdeobaba College of Engineering & Management (RCOEM) is organizing a 3-day International Conference on Electronic Systems,Signal Processing and Computing  Technologies, ICESC-2014 January 9, 10, and 11, 2014 in Nagpur. The Conference will be organized in association with esteemed universities namely University  of Massachusetts, Lowel, USA,  University of the District of Columbia Washington and American Society for Engineering  Education (ASEE) with the technical support  of  IEEE.
Parallel workshops and tutorials on Mechatronics, Smart Grid, Micro Grid, Natural Language processing and  interactive session with the eminent  guests are the main features of this international conference from January 1 to 8, 2014.
The inaugural session will be on 9th at Hotel Tuli Imperial in Ramdaspeth,  Nagpur and Chief Guest would be Dr. V. K. Aatre, Former Scientific Advisor to Defence Minister and Guest of Honour  would be Dr. (Ms) Barbara Masi, Director of Education, Innovation & Assessment Initiatives, University of Rochester , USA. The International Conference will be presided over by Banwarilal Purohit, Chairman of RCOEM. Prominently present for the function would be  Govindlal Agarwal, General Secretary RCOEM, Dr. V.S. Deshpande, Principal RCOEM and National and International Delegates and Experts from related Industry and Academic Disciplines. Dr. Aatre, in his keynote address, will enlighten the participants on "Electronics in the Battlefield". Dr Devdas  Shetty, UDC, Washington DC, USA will speak on "Emerging Trends in Smart Manufacturing & Intelligent Sensing".  Agilent Technologies, Tektronix will hold Technology exhibition and Interactive discussion on "RF 3.5 G/4G Communication and Measurements" and "Nanovolt to Gigahertz Measurement Challenges and Application" with the delegates.
Mechtronics Workshop   is the joint venture  of University of the District of Columbia and RCOEM, Nagpur. On completion of the short course, joint certification will be awarded to the participants as per the MoU with UDC. Eminent speakers  like Dr. Devedas Shetty, Washington , Dr. P R Apte (IIT Powai), Dr. PS Gandhi(IIT Powai), Dr. RM Patrikar(VNIT) and experts from reputed institutes  and RCOEM will interact and guide students apart from their expert talks.
Prof Xiongwei Liu from University of Cumbria, UK , an expert in Smart Grid Technologies for community Energy Systems will throw light on the recent advancements in this field. Smart Grid and Micro Grid workshop highlights knowledge and practices & integration with renewable Energy Sources in US, UK, & European nations. Current status & practices followed in India & worldwide view on how "Intelligent Energy Management Systems" works in Smart Grid.
Natural Language processing, a pre conference tutorial will be conducted by renowned personality, Dr. Pushpak Bhattacharya from IIT Mumbai.  Tutorial includes theoretical and practical aspects of various topics: Ambiguity in language processing, POS tagging and HMM, Parsing and Probabilistic Grammar, Semantics Extraction, Brief Introduction to NLP Applications, Machine Translation, Search and Sentiment Analysis, Introduction of NLP tools, Hands on session. The highlight of the tutorial will be the discussion on the future prospects in the area of natural language processing.
Open Interactive session for MBA Students.
A open interactive session with the students of Department of Management and Technology is organized as a part of pre-conference workshop. The experts  John Rowe (Head of Training) and Rajdeep Choudhary (Head of client services) from London School will guide the students.
The workshops and tutorial sessions have received tremendous response in terms of registrations. These workshops as add-ons to the international conference will help generate new insights for researchers from academia and industry at large.
The second day highlights of the international conference would be a plenary session with Dr. Kanti Prasad, UMASS Lowell, on "Global Societal Impact of Engineering Education and Industrial Revolution" and Dr. Debabrata Nayak Huawei Technology will speak on "Cloud Computing and Millennium Approach".
A tutorial session on "Microwave Design and Its Applications" will be addressed by Prof. OPN Calla, Director, International Centre for Radio Science Rajasthan.
Dr. (Ms.) Barbara Masi from University of Rochester, USA will hold a Panel Discussion. National and International delegates would present their papers in the scheduled Slots and Tracks followed by cultural programme and banquet. The third day highlights of the conference would be the Plenary sessions with Dr, Anil Tiwari IIT Jodhpur speaking on "Lossless Image and Video Compression Methods and Challenges". Dr. Paul Cotae UDC Washington DC will address the delegates on "Non Data Aided Time Phase Recovery Methods For Underwater Communication". A Poster Presentation will be the concluding event for the date followed by valedictory function.
Best paper awards would be the highlight of valedictory function.
In the Research Paper Presentation:  310 Research Papers were received and 94 are selected for presentation including 5  poster presentations.