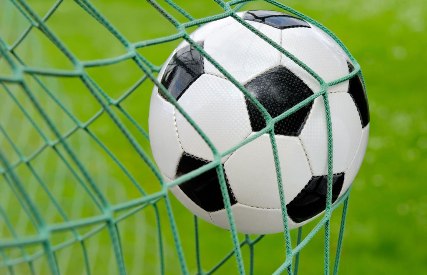 Nagpur News.
Eleven Star and Taj Sporting won their respective qualifier matches and entered in finals of NDFA organized Meghe Senior and First Division Football Tournament on December 6, 2013.
In the first qualifier match of Meghe Senior Division, Eleven Star drubbed Rahul Brothers by way of tie-breaker 3-1 with 0-0 regulation time. Eleven Star scored three fabulous goals through Mohd. Al-Faiz, Shadab Akhtar and Mohd. Faizan. While, Rahul Brothers scored their solitary goal through Anuj Gaurey. Ronald Joseph (73rd min) was warned of Rahul Brothers with yellow card during the match. However, in tie-breaker match, the entire credit goes to goal keeper of Eleven Star Abdul Ahad since he secured three penalty kicks of Rahul Brothers.
In Meghe First Division's qualifier encounter of the day, Taj Sporting blanked Central Railway Institute 4-0. Kalimul Haque put his side ahead by scoring two goasl in the 15th minute and 48th minute. Taj Sporting maintained the lead throughout the match. Along with first half, Second half too belonged to Taj Sporting as they scored the winning another two goals in the 79th minute and 81st minute through Kaleem Khan. Abhinav Yadav (40th min) and Nasir Khan (45th min) of Taj Sporting were cautioned with yellow cards during the match. Also, Rajat Thakur of CRI was penalized in the 58th min during the proceedings.

Schedule for tomorrow's matches:
No senior division
No first division.
Darda Second Division NDFA league:
1st Qtr. Final : ONFC v/s Krida Vikas Sanstha at 11.30 am on CRI ground Ajni.
2nd Qtr. Final : SBFC v/s Birsa Munda FC at 8.30am on CRI ground Ajni.
3rd Qtr. Final : Nagpur City Club "B" v/s Ideal FC at 9.30am on CRI ground Ajni.
4th Qtr. Final : Pats FC v/s Eagle Sporting "B" at 1.00pm on CRI ground Ajni.
1st Semi Final : Winner of 1st Qtr. Final v/s Winner of 2nd Qtr. Final
2nd Semi Final : Winner of 3rd Qtr. Final v/s Winner of 4th Qtr. Final
Also, Qualify for Finals are as follows:
In Meghe Senior Division

Ansar Club v/s Eleven Star
In Meghe First Division
Nagpur City Club v/s Taj Sporting
Both final matches will be played on 8-12-2013 (Sunday), SE Railway ground Motibagh Nagpur.