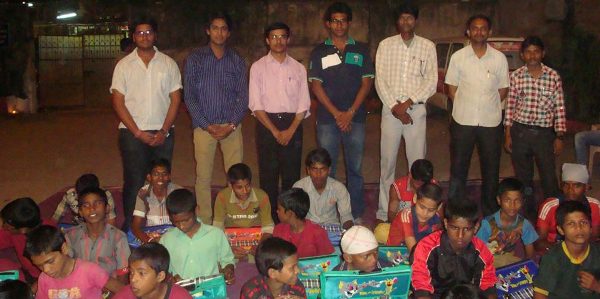 Nagpur News.
SEVA DISHA a Social responsibility cell of Electrolitz- Students Society of Electronics  engineering department of Shri Ramdeobaba College of Engineering & Management had donated 50 school bags to platform school students on occasion of Deepawali festival. A Platform Gyan Mandir is the residential school run by Vishwa Hindu Jankalyan Parishad in association with Nagpur Municipal Corporation & Nagpur Railway Police at Bajeriya, Near Santra Market Railway Gate. The school is for orphan children brought from railway platforms from different cities.
The donation program was held at Platform School premises on 30th October 2013. Function began with cultural show by Platform school students. Electrolitz society in charges Prof. B. M. Hardas, Prof. Gouri Morankar & Society President Mohit Malviya distributed bags to 50 students. Prof. N. S. Damle,Sahil Agrawal,Shubham Khandelwal along with office bearers of Electrolitz was prominently present.
Platform School Project coordinator Shirkant Aaglawe, Niranjan Risaldar & Platform School students interacted with Electrolitz team. Management of RCOEM, Principal. Dr. V.S.Deshpande, Vice Principal Dr. R.S. Pande & HOD Dr. A.A.Khurshid congratulated Electrolitz- Students Society for this noble gesture.