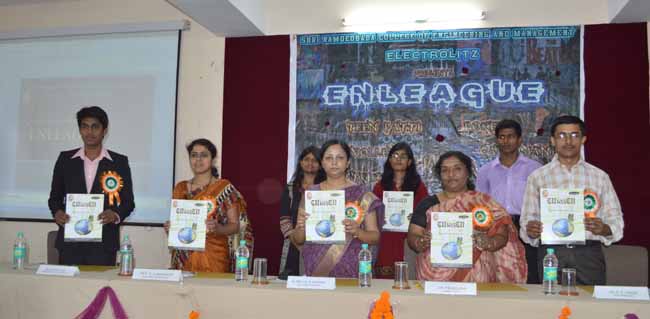 Nagpur News: New executive body of ELECTROLITZ- An electronics Engineering student Society of Shri Ramdeobaba College of Engineering & Management was installed for the year 2013-14 at a glittering ceremony here.
Dr. (Mrs. ) B. Padma Rao, Senior Principal Scientist and Head, Air Pollution Control division, National Environmental Engineering Research Institute (NEERI), Nagpur was chief guest. Vice-Principal Dr. Rajesh Pande, Dr. (Mrs.) A. A. Khurshid, Head of department, Prof.B. M. Hardas & Prof. Mrs. G.A. Morankar, Electrolitz Society in charges and  Mohit Malviya, President of Society were prominently present.
Dr.  (Mrs.) A. A .Khurshid, Head of department in her speech praised the students for their achievements in various disciplines. She also encouraged the students to undertake real world problem solving through Electrolitz. Mr.Mohit presented report of society & highlighted various activities to be carried out in future.
Chief Guest Dr. B. Padma Rao stresses the importance of student society in overall personality development of student. In her address she urged the students to create awareness on use of green electronics products to control pollution caused by E waste. She also mentioned the avenues for electronics engineers in the field of environmental sensing & monitoring.
Departmental magazine ENWISEN was released at the hands of dignitaries. Electrolitz Blog was also launched.
Purva Sarve & Prashant Prabhakar Compeered the program While General Secretary Ms. Nayan Banthia proposed vote of thanks. Faculty members & students of Electronics Engineering largely attended the event. Installation concluded with cultural evening.
ELECTROLITZ Student Society is thankful to management of RCOEM and Principal Dr. V.S Deshpande for their constant support and motivation.