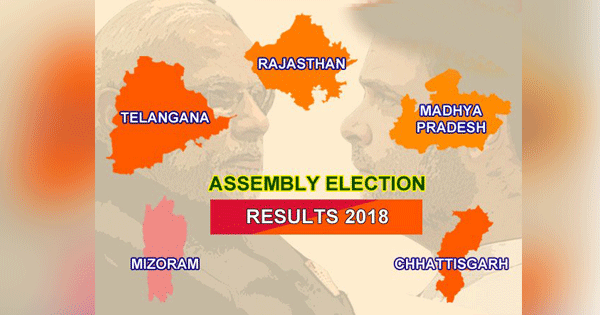 Nagpur: Counting of votes for assembly elections 2018 is underway. K Chandrashekar Rao's party, TRS has taken a massive lead in Telangana. The Congress is leading in Chhattisgarh, Madhya Pradesh and Rajasthan. In Mizoram, MNF has taken an early lead. The results of the five states, which are seen as the semifinal before 2019 general election, will be announced today.
High voter turnouts were recorded in the five states – Rajasthan, Telangana, Madhya Pradesh, Chhattisgarh and Mizoram – that went to polls. An aggregate of exit poll results suggests that it would be a neck-and-neck contest between the Congress and BJP in Madhya Pradesh.
In Rajasthan, it could be a decisive victory for the Congress, the exit polls said. In Chhattisgarh, the exit polls predicted a hung assembly. The Congress is likely to lose Mizoram and K Chandrashekar Rao's TRS will retain Telangana, the exit polls say. After the exit poll predictions came out, political parties went into a huddle to devise strategies for post-election negotiations. On Monday, the BJP's overture for alliance got shot down by Mr Rao's party. The assembly polls 2018 were hard-fought elections, in which all the major political parties ran intense campaigns. In Madhya Pradesh, the fight is between Shivraj Singh Chouhan, the three-time Chief Minister, and the Congress team of Jyotiraditya Scindia, Kamal Nath and Digvijaya Singh. While Mr Chouhan talked about his government's performance during campaign, the Congress leaders slammed him over the alleged Vyapam scam.
In Telangana, the Congress-TDP partnership seeks to unseat K Chandrasekar Rao, the first Chief Minister of the state. Congress president Rahul Gandhi called Mr Rao's party the B-team of Prime Minister Narendra Modi.
In Rajasthan, the team of Sachin Pilot and Ashok Gehlot has led the fight for the Congress. It has attacked the BJP-led government for allegedly not developing the state. The BJP has pinned its hopes on Chief Minister Vasundhra Raje. In Chhattisgarh, the Congress hopes to unseat Raman Singh, the Chief Minister who is seeking his fourth term.
The main issues here were Maoism, tribal welfare and development. Mizoram seems fated for a hung house, with exit polls predicting that the Mizo National Front (MNF) will trump the ruling Congress by a slim margin but fall short of the majority mark of 21 in the 40-member state assembly.
The elections in the states were fought on the national level as well. For the Congress, Rahul Gandhi campaigned extensively, attacking the BJP over the Rafale jet deal. Whereas the BJP, led by Prime Minister Narendra Modi and party chief Amit Shah, slammed the Nehru-Gandhi family, alleging it didn't do much for the country.