Nagpur News : Among three chain snatching in a day, a 77-year-old woman fought with thieves who tried to enter her house and snatched the gold chain.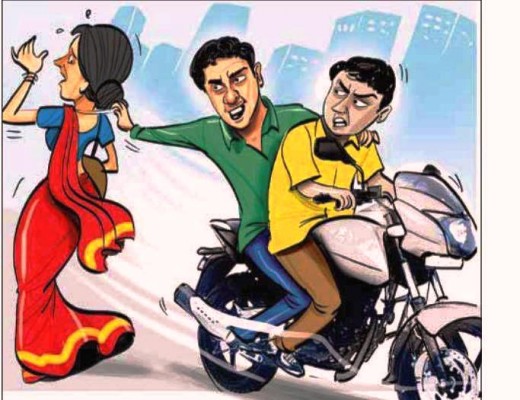 Senior citizen, Padmarao Venugopalrao was alone at her residence at Kasturi Ritika Vihar in MIDC Takli Sim when the thieves knocked the door around 3 pm on Saturday. The youths asked her whether there is any labour work to do and tired to enter incident. Suspecting danger, she tried to shut the door but the youths get hold of her gold chain. Though frightened, the elderly women tightly hold her gold ornaments and raised an alarm alerting her neighbours.
She told that among three youths, one was standing near the gate while two others were trying to snatch the gold. However, on seeing the neighbour coming to help, the youths made away with half gold chain worth Rs 65,000 while the other half was saved by Padmarao. A case has been registered at MIDC police station.
In other two incidents, two women were robbed of their gold chains within an hour on Saturday morning. The loss reported of gold ornaments from all the three cases is worth Rs 1.65 lakh.
Around 10.30, thieves on bike robbed homemaker Pranjali Hadge, 28, while she was driving her scooter through Ayodhya Nagar. Hadge told police that she was heading to his son's school in Sakkardara area when two youths came on a speeding bike from behind and snatched her gold valuable worth Rs 44,000. She immediately reported the matter to police control room who then alerted nearby Sakkardara police station.
Within an hour, police control room reported other similar call from 38-year-old Nanda Milmile, complaining about the same incident happened to her. Milmile told police that she was closing the gate of her house at Lokhande Nagar when two youths on bike came near the gate and asked her about some address. While she ignored them, they snatched away her mangalsutra and chain weighing 20 grams worth Rs 60,000.
Milmile raised an alarm but the chain snatchers had zoomed away on their black coloured bike. Rana Pratap Nagar police has registered the case.