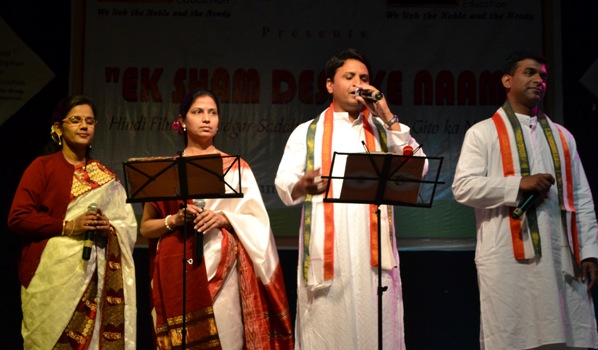 Nagpur News:
The eve of Republic Day observed CAFÉ– Child Adoption For Education and CARE– Child Adoption For Rehabilitation & Education,
organizing an event dedicated by patriots to India.
This evening saw performances of various artists and handicapped children. The evening was beautified by the harmonies of several singers and instrumentalists with patriotic songs such as – Mere Desh Ki Dharti Sona Ugle, Vande Mataram and Is Mitti Se Tilak Karo among others. The dance performances by physically and mentally disabled children on Suno Gaur Se Duniya walo and other Bollywood numbers, were heart-touching. The Chief Guest for the evening was Sanjay Meshram from Rotary Club of Nagpur.
Hemant Lodha, the founder of CAFÉ and CARE envisioned a country where every child achieves a basic education. A school going child has certain necessities to be able to attend school, besides his/her blooming enthusiasm. "Government is providing free education and mid-day meals in schools but there are many things a child needs to attend school, and cannot afford it", said Lodha.
The program CAFÉ deals with the distribution of education needs of children. Various organizations such as Lions Club and Rotary Clubs of Nagpur are among 30 organizations and companies which act as mentors to these programs. With about 750 patrons associated with CAFÉ and CARE, many school kids have acquired basic necessities in the form of school kits. This kit consisting of basic things a child needs for school such as notebooks, pencils, water bottle, school uniform, shoes and school bag, costs a mere ₹500. This amount donated by patrons is used to buy the school kits which are later distributed to children in need. On the other hand, CARE deals with rehabilitation and medical care of HIV positive orphans.
The main purpose of this event besides celebrating patriotic fervour was the launch of CAFÉ Club. Lodha said, "Anyone can become a
member of the CAFÉ Club by paying ₹1000. This is a simple process and anyone can be a part of this club and help under-privileged children."  This is one of the 2 events that CAFÉ organizes every year. The other program is the distribution of school kits in and around the month of July. For the readers of Nagpur Today, Lodha's message was, "We are not capable of doing everything. We are the link for the noble and needy. We are providing a platform for people to do something good for their society. " Nagpur has always seen a philanthropist and patriot in all its citizens. In this independent country that earned its freedom 65 years ago, Nagpurians continue to stand as a part of the backbone that holds the country's pride.
Shivangi Chaturvedi