Nagpur: Even as Nagpur's Muslim community is soaked into the religious fervour and gaiety surrounding Bakri Eid on Wednesday, NMC has ensured the festivities go on peacefully. This year the civic body has issued a circular directing the community people to seek permission for sacrificing big animals.
This year the goat markets too did a brisk business in view of beef ban, as the community people thronged these markets to seek their share of sacrifice, sacredly called as 'qurbani' in the community.
However the big event this year was a big 70-kg goat with 'Allah' naturally inscribed on its skin. Actually the texture of skin of this goat was such that one can clearly read 'Allah' imprinted in Urdu on its abdomen area.
The goat which has come up for sale is owned by Nazir Sheikh, who runs business of auto deal at Ravi Nagar square and also takes up business of goat selling every year around the Eid season. He is also engaged in goat farming and soon coming up with an exclusive goat farm with unique breeds of goat.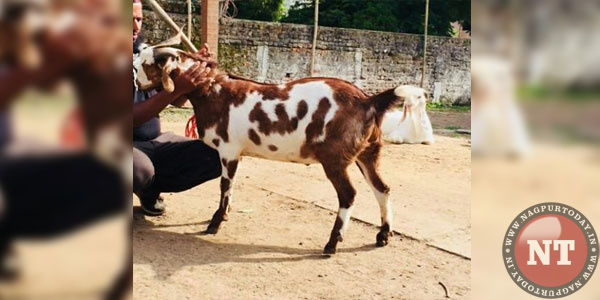 Talking to Nagpur Today, Nazir Sheikh said, "This Allah written goat is not less than God's gift. Earlier too, such goats with inscription of allah on its bodies have come to the fore but I guess such a clear depiction of allah on any goat has been probably never seen before in any market in world."
So the next question that comes to your mind is whether this goat is sacrificed or it went unsold? Yes, the goat is still there and the owner decided not to sell it this year.
"Such goats are actually invaluable and no price could decide its value. However we would tame it till next year and expecting a price of Rs 5,51,786," he added.
However, price of any normal goat of same weight stands anywhere between Rs 50,000 and Rs 60,000. Nazir informed this year the highest price that any goat commanded was Rs 1,51,000 in Nagpur market.
Well, Nagpur Today wishes all its readers a very Happy and Prosperous Eid.